Marshall's new Origin amp is an affordable, vintage-voiced valve amp. Boss have been making a range of affordable drive pedals since the 70s.
And together, they sound pretty damn fine.
Reference: The Marshall Origin With No Pedals
As a reference point, here's what the Origin can do without any pedals.
Thing is, if you're playing at home, you'll probably never hear your Origin sound like that. This amp needs to be cranked to deliver the dirt. That clip was recorded with both Master and Gain on 8. My 20W Origin head is just too loud to do that at home.
So, if you like what you've just heard, and you want that for yourself at home, you're going to have to budget for some pedals to go along with your nice new Origin amp.
And that's where Boss comes in. Their pedals are cheap (the most expensive one in this demo is the BD-2 at £85) and widely available (support your local guitar shop!). And they work really well through the Origin.
Overdrives: BD-2 Blues Driver and the SD-1 Super Overdrive
First up is the venerable Boss BD-2 Blues Driver.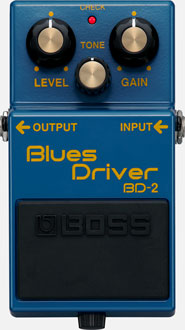 It has the lowest gain out of all three pedals in this roundup, but don't let that put you off. As you can hear in the demo below, if you're playing the kind of rock that sounds best through this amp, you don't need all the filth for rhythm work.
Next up, another classic Boss pedal: the SD-1 Super Overdrive.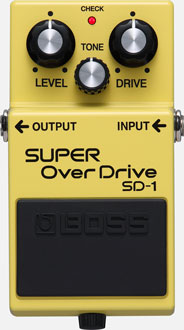 This pedal will get you right up there, delivering the same amount of filth that the Origin can do on its own – only without having to crank the amp to do so. To my ears, the SD-1 sounds a little thicker than the Origin does, and maybe slightly softer clipping too.
Have a listen:
Distortion: Boss DS-1
The DS-1 is a legendary pedal.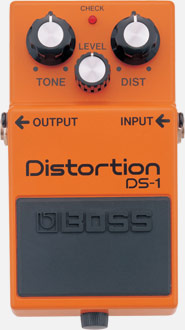 Compared to the SD-1, it offers harder clipping and reduced mids for a more aggressive tone. As a result, the guitar will sound quieter compared to the other two pedals. Thankfully, the Origin has an immense amount of input headroom, so just turn up the pedal and rock out!
Setting Up Your Boss Pedal For The Marshall Origin
The common advice with these Boss pedals is to turn down the gain, and use them as a boost into the amp's input to get the amp to naturally overdrive.
That doesn't work with the Marshall Origin.
The Marshall Origin has a huge amount of input headroom. You have to crank a pedal well past its sweet spot to have any chance of getting the Origin to naturally overdrive at home volumes.
The good news is that you don't need to. Turn up the gain on your pedal to taste, and then adjust the pedal's volume until you've got the same volume when you turn the pedal on and off again.
As the Origin is a bright amp, you'll probably want to start with the pedal's tone control at around 10 o'clock. From there, adjust the tone control with your ears.
Final Thoughts
The Origin is one of those amps that has a big say in what a pedal sounds like. It's very suited to pedals – like these three from Boss – that are designed to work with an amp's existing colour.
I'd happily record with the Origin and these pedals. I think the results are very usable – especially for the money! And they felt nice to play through too, which is also important.
What do you think? Comments below!