The turning of the year can be a great time to hunt for new (to you) guitar gear. The second hand market is normally flooded with folks who are moving on gear they no longer want – or sadly can no longer afford to keep. And there's Winter NAMM, where brands large and small drop announce new products.
I've been lucky enough to pick up some stuff that I'm interested in, and I thought I'd share it with you. Some of it is new to me, and some of it is me taking a second look at things I've had before but didn't gel with. And there's a few very special items too.
I'm going to do full articles on each of them, once I've had a bit of time with them. For now, here's the very first impressions for you.
The Acoustasonic Telecaster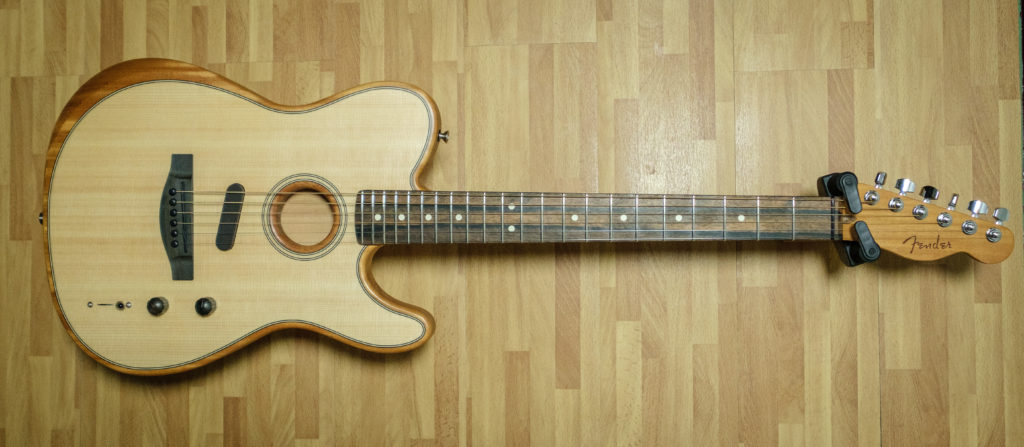 Fender's big announcement at Winter NAMM 2019 was this unusual-looking thing. It's a Telecaster that sounds like an acoustic guitar.
I know, right?
I was away on a business trip when the announcements came out, and my reaction was the same as pretty much everyone else's – meh. It seems like such a gimmick. And it isn't helped by being priced around the same as an Elite Telecaster or Stratocaster.
But when I got back home, and was able to listen to the demos – especially the Andertons and Reverb demos – my opinion changed. It sounded so, so good. Hear for yourself:
Normally, this wouldn't be my thing. But I've just started weekly rehearsals for a gig (hopefully in April), and we're doing an acoustic set. This new Fender Acoustasonic Telecaster seems perfect for that – even better than the Taylor T5z.
I'll be using it at rehearsal for the first time on Wednesday. I'm already looking forward to it.
Lovepedal Tchula Black Mamba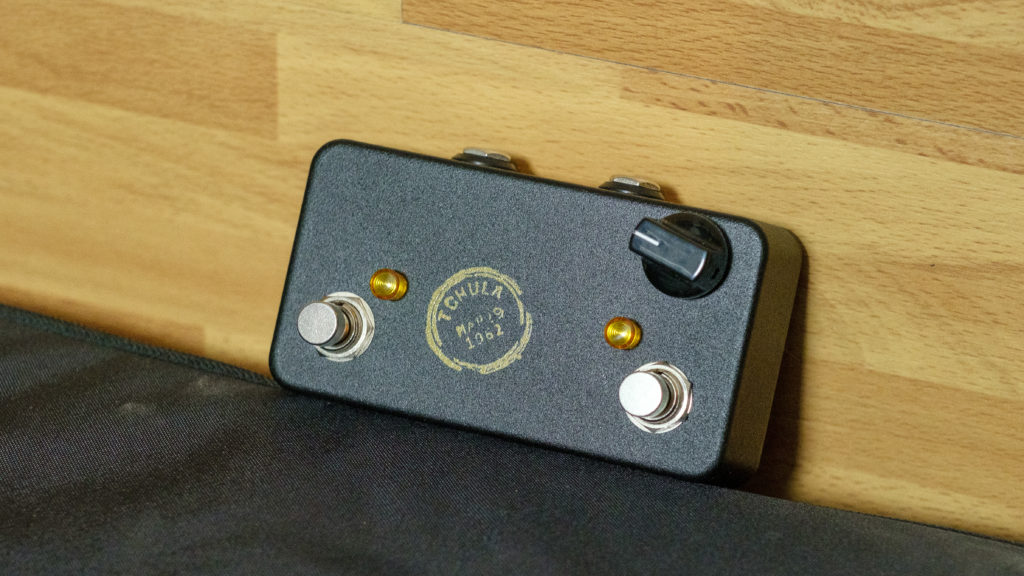 Lovepedal's Tchula pedal is right up there with the Klon Centaur and Analogman's King of Tone as a fully-fledged member of the Legendary Pedals Club. Don't @ me.
At its heart, the Tchula is two COT50 boost pedals stacked together. One side is a fixed boost, and the other side has (I believe) a bias pot so that you can dial in to taste. There are several different variants, and (with the exception of the Mississippi Tchula) each variant sports a different take on the COT50 to give a slightly different tone.
I managed to snag the Black Mamba Tchula. This variant is said to be a little warmer than the original gold Tchula designed for Josh Smith. Sounds ideal for a bright amp like my Origin 20 🙂
AEA Nuvo N22 Ribbon Microphone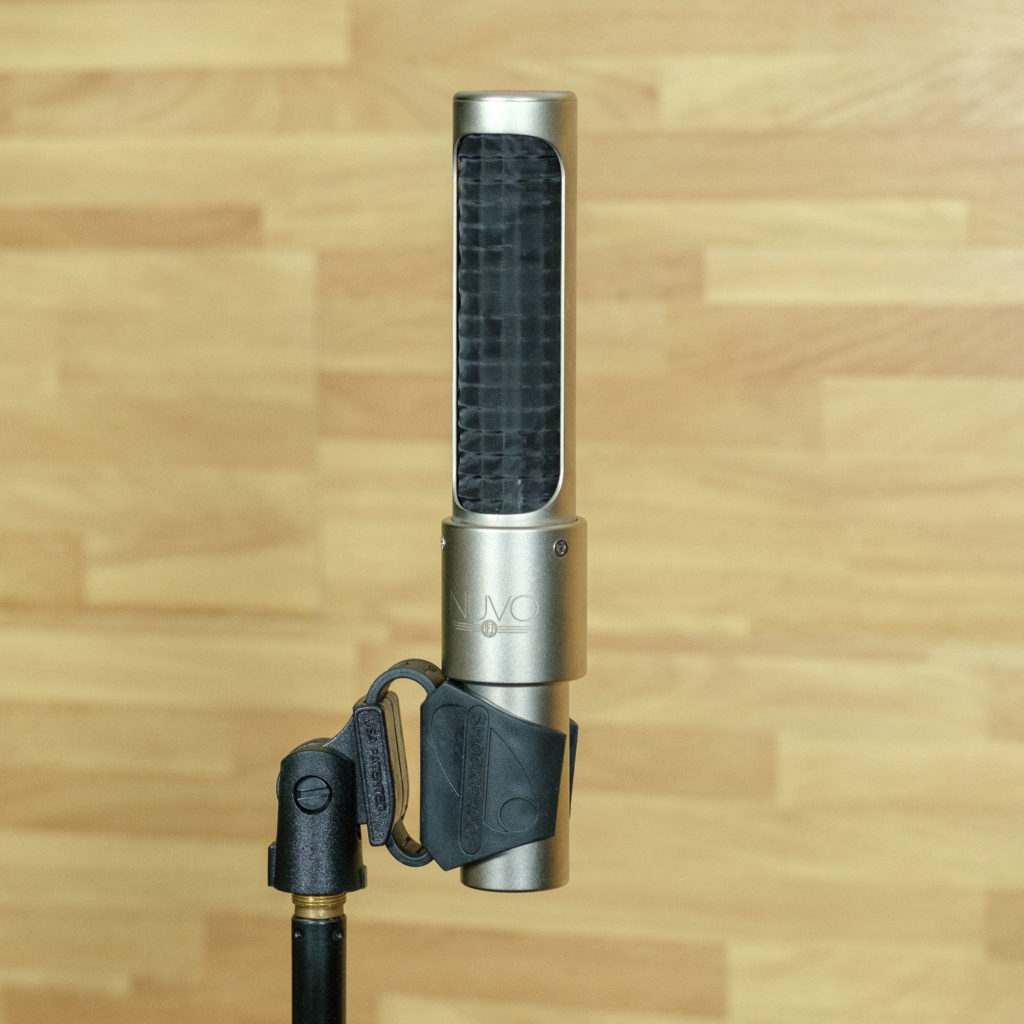 I was watching a video on Chicago Music Exchange's YouTube channel over Christmas (I think it was this one on the new Fender American Performer Telecaster), and I was stunned by the sound quality.
Here was a mic capturing all the mid-range we'd expect, and with all the body that we love for home tone. There's plenty of top-end too; it doesn't sound like someone threw a blanket over it.
The mic they were using was a ribbon mic, the AEA Nuvo N22. And it was just my luck that a 2nd hand one turned up earlier this month.
Literally all I've done with it so far is plugged it in to make sure it wasn't DOA. When I've got some free time (haha I wish) it's going to get used for making Kemper profiles and on some female vocals.
Mad Professor 1 Brown Sound Pedal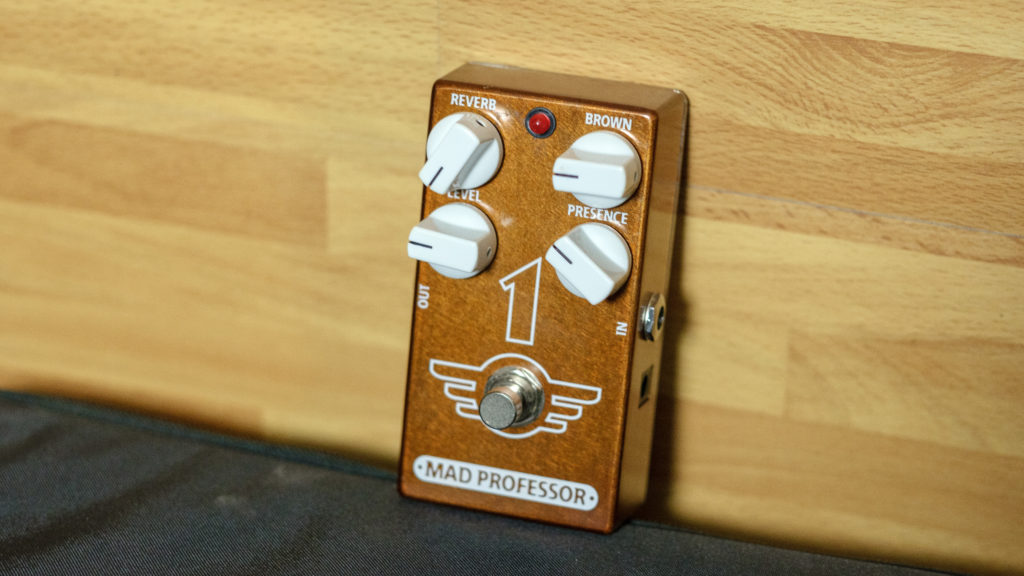 Speaking of Kemper profiles, I've started thinking about collecting as many Marshall-in-a-box (MIAB for short) pedals as possible. I think it'd be handy to have a wide palette of Marshall-like tones to hand.
Plus, I'm a huge fan of Mad Professor pedals. So when a couple of these 1 pedals came up on the 2nd hand market this month for a really good price, I thought it was a good idea finally pick one of these up.
How can I describe it? It's basically got two settings – high gain, and melt-your-face-off gain. As you'd expect, it's a one-trick pony (most MIAB pedals are), but what a trick. It gives you that perfect 80s hair-metal tone that we all wished we actually had back in the day.
Carl Martin PlexiTone Drive Pedal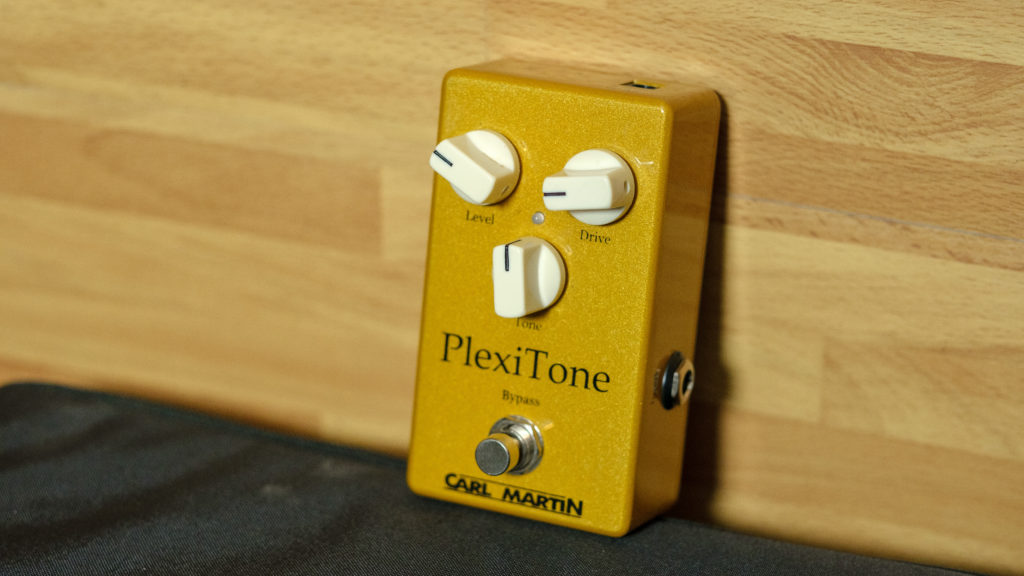 This is another Marshall-in-a-box (MIAB) pedal that I've seen plenty of but never heard before. I can't remember seeing any demos of this up on YouTube. So I was curious to try it – if one came available at a good price on the second hand market.
I'm glad I did.
With all these MIAB pedals, there's a risk that most of them will sound pretty much the same. After all, they're all chasing the same iconic tone. But here's the funny thing about tone – we all hear something different. And that can be seen in how different all these MIABs often are.
The PlexiTone has a 70s rock feel about it. It's brighter (cutting, even), and thinner than the pedals that chase the 80's hair metal sound. It makes me want to sit here and play old Thin Lizzy riffs – if only I knew some!
Lovepedal Eternity E6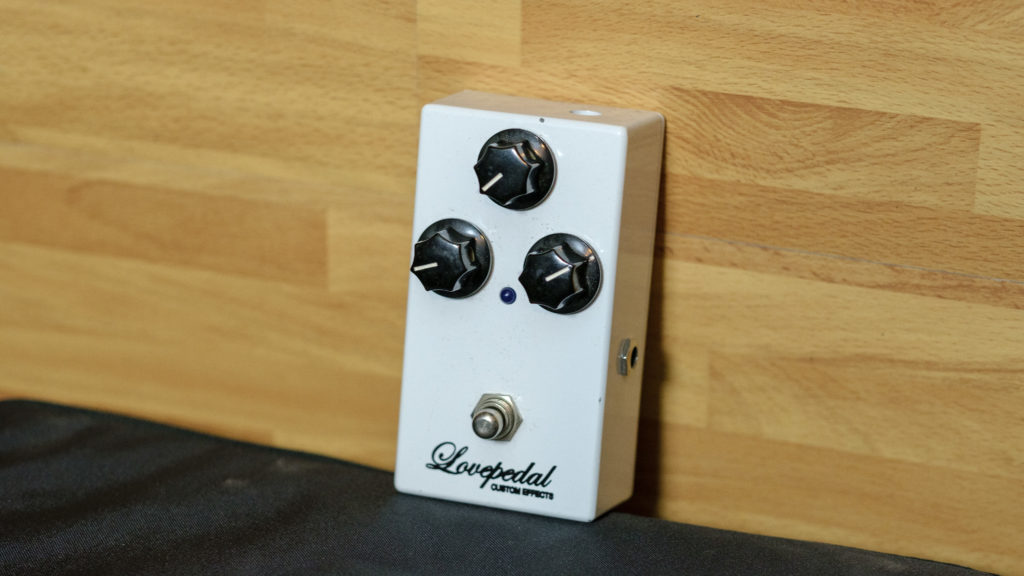 Although it's not marketed as such, the Lovepedal Eternity pedals have always been lumped into the Marshall-in-a-box category. There's been a lot of variants over the years, but perhaps the best known one is the E6. Capt Anderton used to use one on all the Andertons videos, and his signature Lovepedal Stax Master dual-drive pedal featured the E6 on one side.
I used to have one a few years ago, and I moved it on because I thought it was too noisy. Since then, I've made a lot of improvements to the quality of my rig, and I thought it was a good idea to try this again.
I'll be honest – it didn't stay out of its box for very long. It arrived around the same time as the Tchula, and that Tchula is a magical wonder to behold. The pedal isn't noisy (yay!), but I was finding it hard to dial in the 'glass' control to suit. I think I need a bit more time with it, and to be dialling in the amp more than the pedal.
Xotic Effects EP Booster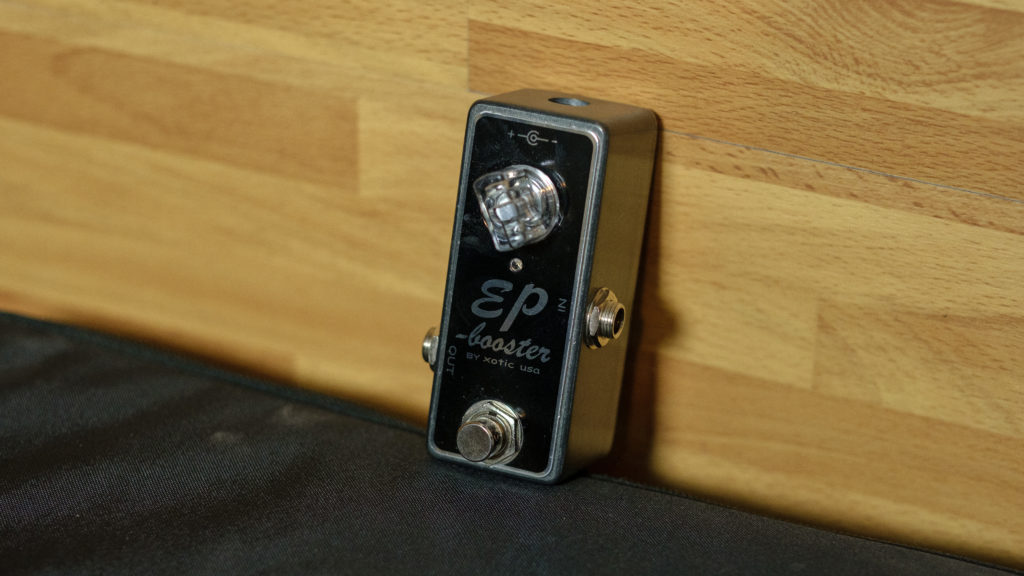 Now here's another pedal that I had noise concerns about, before it arrived.
I've never owned one before. I've had two other Xotic pedals, and one reason I flipped both of them is that I wasn't at all happy with how noisy the pedals were. I chain pedals together for my recorded tone, and if a pedal has a high noise floor, all that noise gets magnified to distraction in a pedal chain.
Again, since them I've made important improvements to my rig, and I need to revisit old experiences to see if they're no longer valid. That, and the Echoplex Preamp is one of my favourite boost pedals. I was curious to see how the EP Booster compared.
Both pedals are based on the preamp circuit of the legendary Echoplex tape delay unit. The preamp circuit adds colour to the tone in a way that's really pleasing.
My main pedal board needs completely stripping down and rewiring from scratch. So I haven't been able to compare the EP Booster to the Echoplex Preamp pedal yet. I have run it into my Marshall Origin, and I didn't hear any noise problems there. But the jury's still out until I've built the new board and tested it there.
Suhr Shiba Drive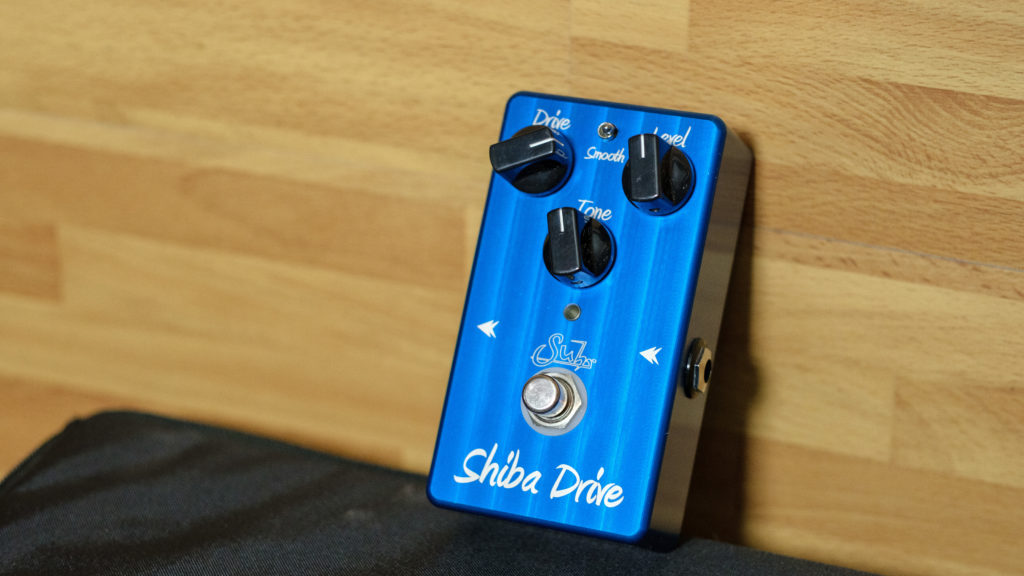 I'll be honest – I don't know much about this at all. One of my eBay searches is for Suhr guitars, and every now and then a genuine Suhr pedal turns up in the search results too. (The Suhr Riot is one of those pedals that all the usual suspects have cloned over the years).
It isn't marketed as such, but I'm tempted to say that this falls squarely into the TubeScreamer segment of the pedal market. Only, you can definitely use it into a clean amp – something the TS isn't strong at. It's definitely a pedal to sit in the mix. I'm looking forward to using it to drive my Synergy Amps rig at some point.
Wampler Tumnus Deluxe
I'm sorry, I forgot to take a photo of this one before sitting down to write this blog post.
Just before NAMM, Wampler put up a post on Facebook that strongly suggested that the Tumnus Deluxe was about to disappear from the range. I had a look round, saw that it was out of stock almost everywhere, and managed to buy one of the last few I could find in the UK.
Yeah, I paid full price for this one.
Turns out, the Estate of CS Lewis have objected to the name of the pedal, and forced Wampler to rename it. At the time of writing, all the Wampler folks are at Winter NAMM, so there's no-one around to update their website and it isn't 100% clear what the pedal's new name will be (the GOAT perhaps?) That's going to be the only change. The circuit will remain the same.
I bought this thinking it was going to be discontinued. I've mixed feelings on the news that it's just getting a name change. I feel a bit mislead by Wampler, but at the same time I'm glad that you'll still be able to get this pedal.
Because it's great.
All the Klon klones I've tried so far – including Wampler's own Tumnus mini-pedal – have a flaw in the bass tone when used as a boost pedal. Every single one of them gets very bassy. And that's something my Klon KTR just doesn't do.
The Tumnus Deluxe has an active bass control on it – something that's rare (if not unique) amongst Klones. Perfect. It also has a 'hot' switch, so that it can be used as an overdrive pedal all by itself. I haven't spent very long with it so far, but I was able to dial in a lovely open dirt tone straight into my Marshall Origin 20.
As the main pedal board is out of action atm (see earlier in this post), I haven't been able to compare the Tumnus Deluxe to the KTR. I probably won't either, as I've got the KTR dialled in exactly how I like it, and I'd hate to adjust it at all.
Your New Arrivals?
So those are my new arrivals for January. And most likely for February too (at least)!
What gear have you managed to pick up for Christmas? Which ones got away? What have you got your eye on for later in the year? (That new green finish for the Silver Sky has certainly turned a few heads …)
Leave a comment below!