This conversation was originally posted to my Twitter feed.
For #CoffeeAndKlon this week, I'm continuing the these of 'before there was Klon', with inspiration from my local guitar shop and the mighty demo god that is Pete Thorn.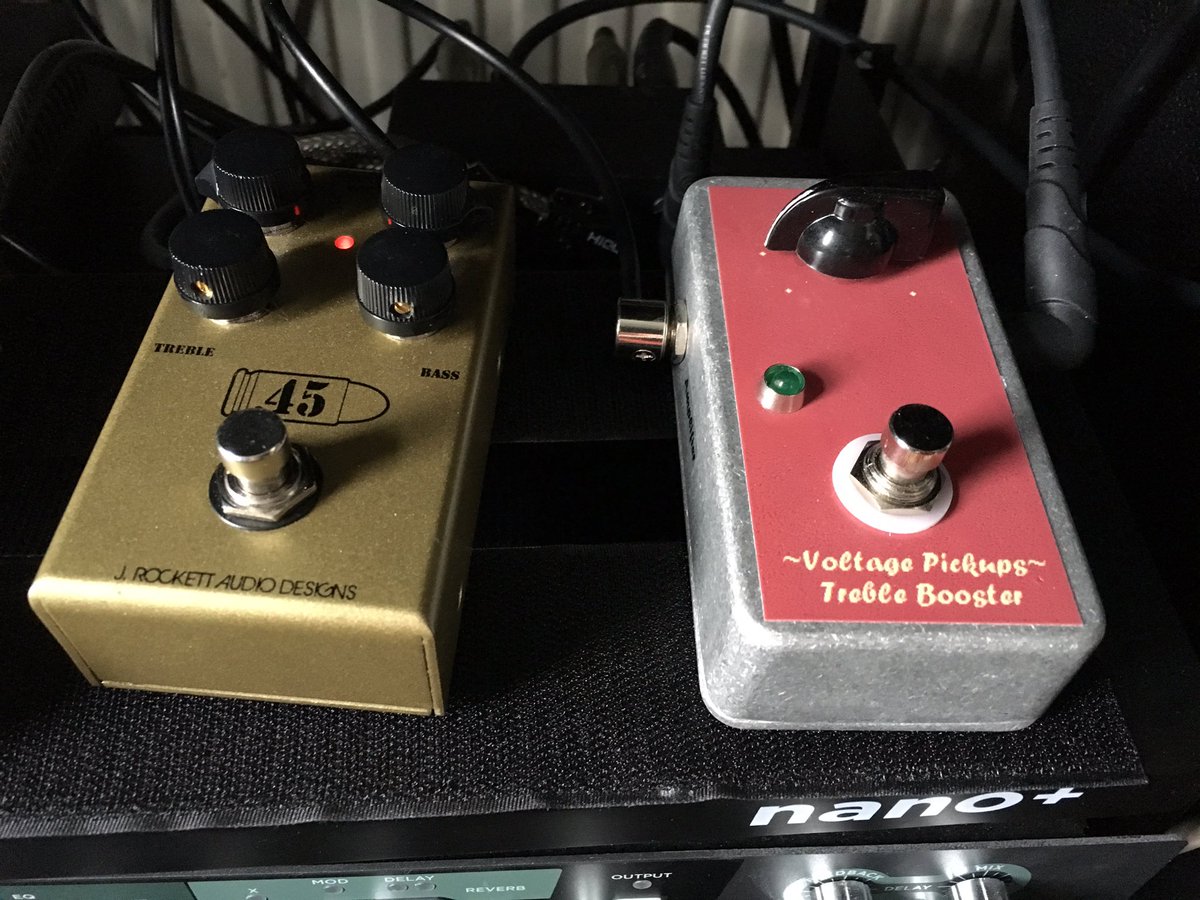 Although I promise a klone will make an appearance before I'm done 🙂
So what have I got on the board this morning? The .45 Cal is JRAD's JTM45 amp-in-box pedal. I think it's a nice crunchy rhythm pedal that sounds great with a Les Paul.
Next to it – a treble booster. I picked this up on eBay for a lot less than other treble boosters go for. I'm using this one today because it's mains-powered, rather than battery powered.
In this recent video, @petethorn did a great job of showing how classic rock sounds relied on treble boosters to deliver those iconic tones.
And it got me wondering … what would happen if I ran a treble booster into an overdrive pedal?
This is probably going to be a terrible idea …
Pedals (generally) aren't a recreation of an amp's preamp circuit. They're trying to produce a compatible tone. That doesn't mean they'll behave the same way to various input signals.
One area where pedals can differ greatly from amps is their input headroom. Some pedals will happily accommodate being slammed with a hotter signal. Others will fart out or turn into fuzz pedals instead.
Fortunately, the .45 Cal takes hot signals well. I didn't know that before I started this morning 🙂
I've tried to set the .45 Cal up to mimic the base tone that Pete Thorn dialled in for part of his video. The .45 Cal can sound a lot better than that 🙂
Engage the treble boost, and I'm very quickly into Ride The Lightning territory. Here are the settings that I'm using to relive my childhood between tweets 🙂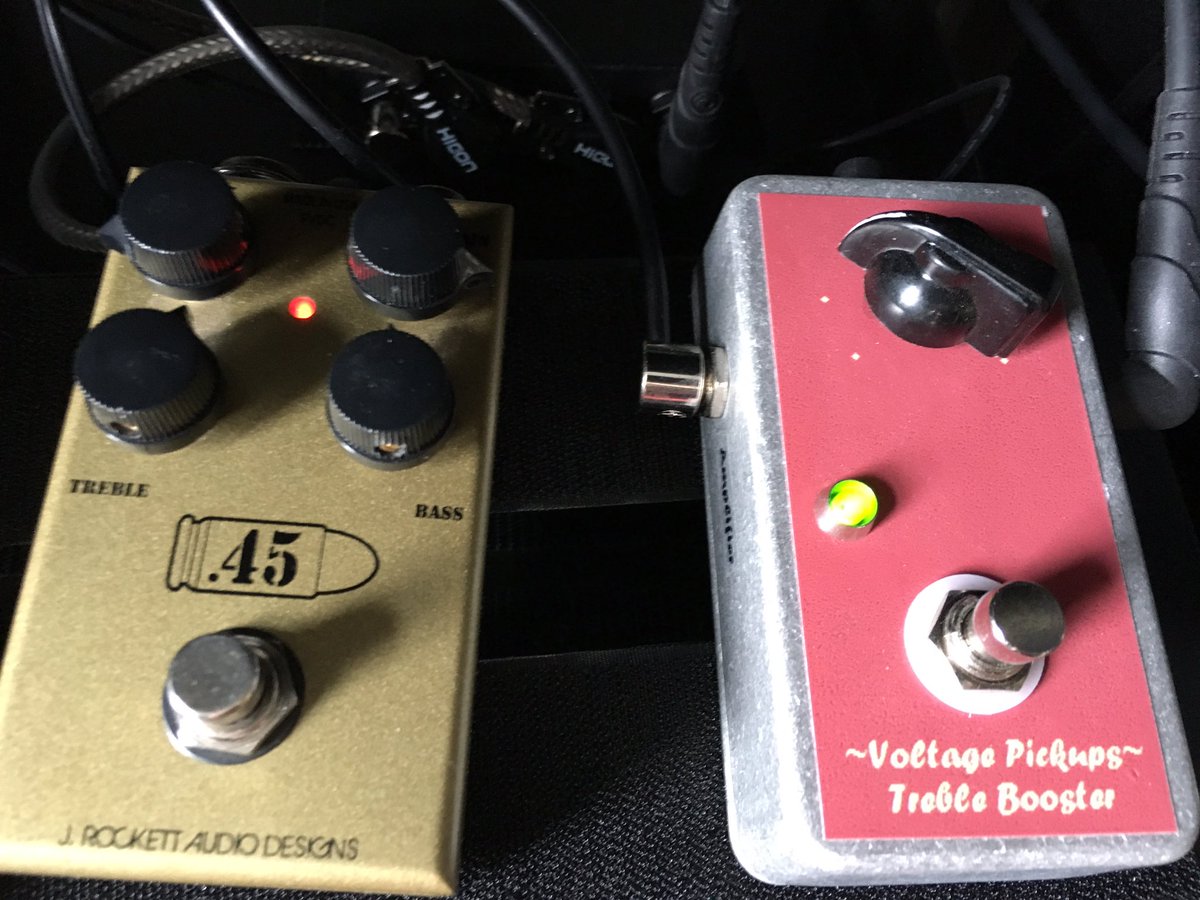 Might be hard to see from that photo: the .45 Cal has plenty of gain dialled in. That treble booster needs something to work with. Dial the gain back, and this is a pairing that IMHO doesn't do anything interesting at all.
Tell you what I am interested in though: what does a klone sound like, on the receiving end of a treble booster? I'm sure there's a very good reason no-one has ever asked this …
I'm going to try the original Wampler Tumnus. I've picked it because this pedal has a bit of a following as a primary overdrive in its own right.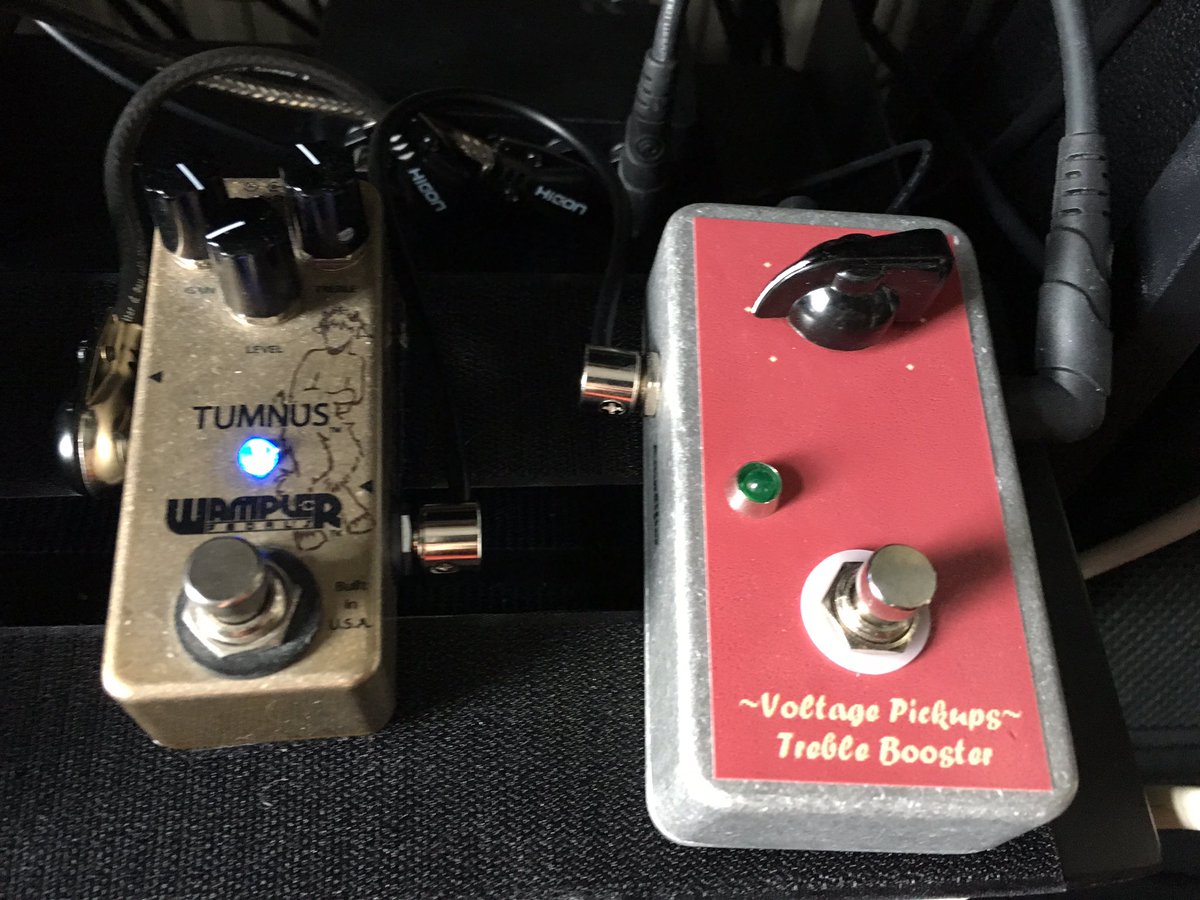 The first challenge is trying to make it sound dull and lifeless without overdoing it. This is the first time I've tried this as an overdrive. It sounds really good.
Add in the treble booster, and I'm not convinced that I've made the tone any better. There's some kind of phasing issue in the end result, at least to my ears.
I do like the idea (for fun!) of trying other boost pedals with klones in the future. I'll come back to this topic another time.
If you've had a play with treble boosters and pedals – or klones with boosters – I'd love to hear how you got on.
Have a great day 🙂