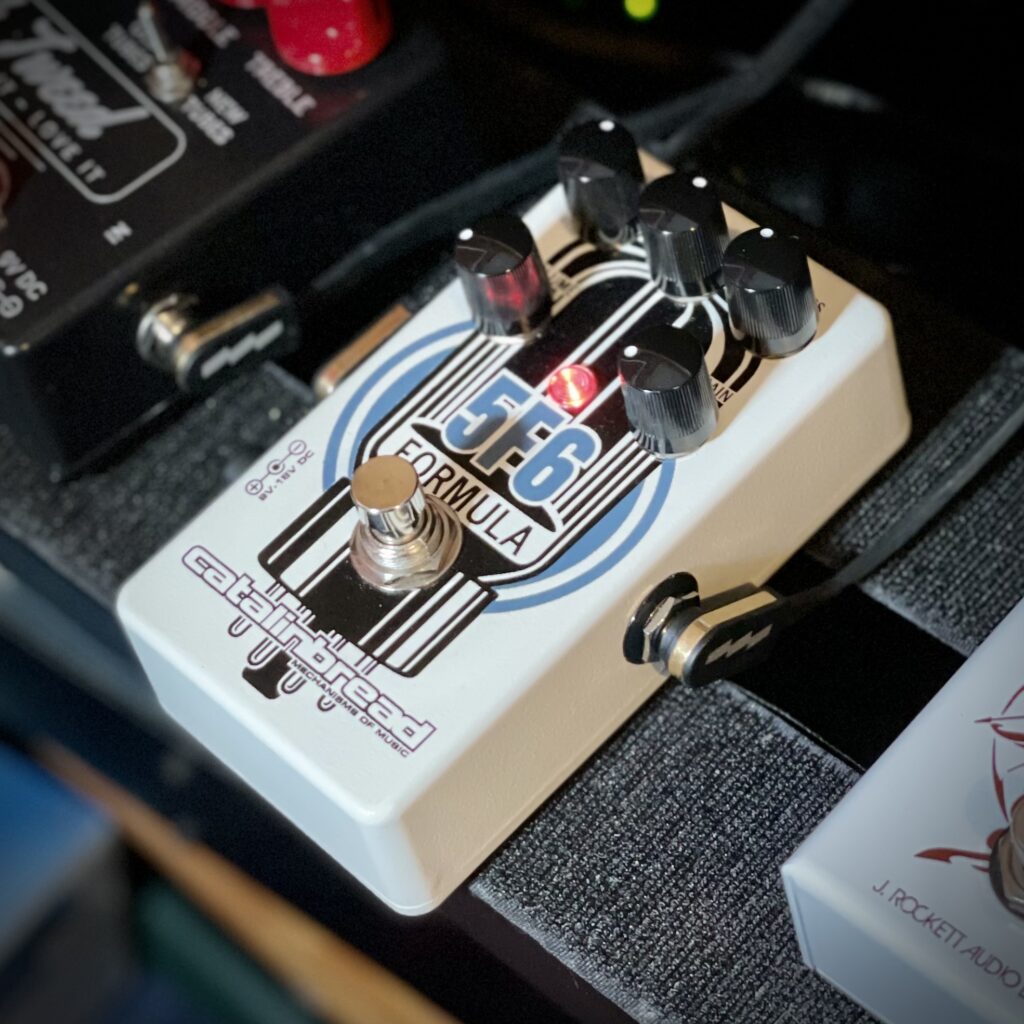 As regular readers will know, tweed-tone pedals are kind of my thing. Good, bad, or indifferent, I'm always on the lookout for an opportunity to try as many of these pedals as I possibly can. The Catalinbread Formula 5F6 is one of the few that's in regular production.
The day this was delivered, I was pretty down on it over on my Twitter account. Has anything changed now that I've had a bit more time with it? That all depends on what kind of guitar you play …
tl;dr
If you play a Stratocaster with single coils, and you want a pedal that gives you the sound of a cranked amp, then you might well enjoy the Catalinbread Formula 5F6. I had tonnes of fun with it using my Strat.
Trouble is, I prefer Les Pauls, and even though I'm using vintage-output humbuckers, the input signal seems to be too hot for this pedal. This is the second Catalinbread pedal I've tried that has this problem.
I feel very reluctant about buying any more Catalinbread pedals. I guess I'm just not the kind of player their pedals are made for.
What Did You Buy?
I bought a second-hand Catalinbread Formula 5F6 overdrive pedal. It's part of their Foundation Series of pedals, which appear to be amp-in-a-box pedals.
The 5F6 aims to reproduce the feel and tone of Fender's classic Bassman amp, also known as the 5F6 circuit.
Why Did You Buy It Second Hand?
Back in March 2019, I picked up a Catalinbread Dirty Little Secret mk3. Although it's regularly mentioned as one of the greatest Marshall-in-a-box (MIAB for short) pedals every designed, I was hugely disappointed with it. I couldn't boost it, and reacted like it had very low input headroom.
In short, it really put me off the whole brand. I didn't know whether I'd picked up a duff pedal (probably not, but I always have to keep an open mind about that), or whether there's something wrong with their designs. There was no way I was going to pay full retail on another of their pedals until I'd tried another.
Now wrong is an incredibly strong word to use, and I don't use it lightly.
When I take a Les Paul with vintage voiced, vintage output pickups (ie PAF-style pickups) and that's too hot an input signal for a pedal … either the pedal's a specialist pedal of some kind, or it has a design problem.
I Can't Get A Good Sound Using My Les Paul
The Formula 5F6 has exactly the same problem that the Dirty Little Secret mk3 did: it can't handle the vintage-output humbucker signal from my Les Paul's bridge pickup.
The pedal reacts like it has incredibly low input headroom. Just the signal off my Les Paul alone is enough to make it crap out. And as for sticking a boost in front of it? Double no. It's completely slammed.
Honestly, if I had bought it from a shop, it would have gone back the same day.
Seeing as I'm stuck with it for now, and it arrived on a Saturday, I thought "why not" and decided to give it a go with a Stratocaster instead. And now that I have, these Catalinbread pedals are starting to make more sense.
This Pedal Sounds Great With My Stratocaster
The whole Catalinbread thing seems to be about getting cranked amp tone and feel (my emphasis) at home tone volume levels. That isn't easy, and most pedals that try end up dying on that there hill.
Catalinbread have done it … as long as you're strapping on a Strat with its classic single-coil pickups.
That input headroom on the pedal that sounds and feels like I'm playing into an amp where the frontend is already slammed? It's pretty much perfectly matched to the single-coil pickups on my Stratocaster.
There, it doesn't just sound good, it sounds great.
I'm drafting this on the Sunday night, and I've had a lot of fun playing my Stratocaster through the Formula 5F6 this weekend. Whether I'm using the ultra-high quality noiseless Kinman pickups in my Elite Strat, or the cheap and cheerful stock pickups in my Player Series Strat, they've both sounded big and fat and (thanks to the heavy compression) easy to play.
Heck, I was even able to boost the Formula 5F6 a bit with my JRAD Archer Clean. Not only did it add clarity, but the Archer's treble control made a huge difference in dialling in that classic tweed-tone roundness to the attack.
I'm still deeply disappointed that I can't enjoy it with my Les Paul, though.
I Wish Catalinbread Made This Clearer
The main reason I'm disappointed is because I found out the hard way that the pedals aren't for Les Pauls, by buying the pedals and trying them for myself.
I cannot find anything on the Catalinbread marketing website – or in the product manual – that makes it clear that this pedal is designed for a Stratocaster's single-coils. Maybe it's there and I missed it?
Love Their Product Manual Though
Oh, as an aside, full marks to Catalinbread for putting their product manuals up on the website, and making them really easy to find. I'd love to see every pedal manufacturer do the same. It's good for their customers, and it's not exactly difficult to do or expensive to do either in this day and age.
Final Thoughts
I think reluctance is the perfect way to sum up how I'm feeling about Catalinbread as a brand.
I would like to try a Formula 55 at some point, because it's one of the few tweed-tone pedals in regular production. That's only going to happen if I find a second-hand example, and even then, it's going to have to be going for a bargain price.
The way I'm feeling right now, though, I'm more likely to move both of my Catalinbread pedals on and never bother with their pedals again.