You probably haven't heard of this guitar. We certainly hadn't. But once we'd tried one, we were sold.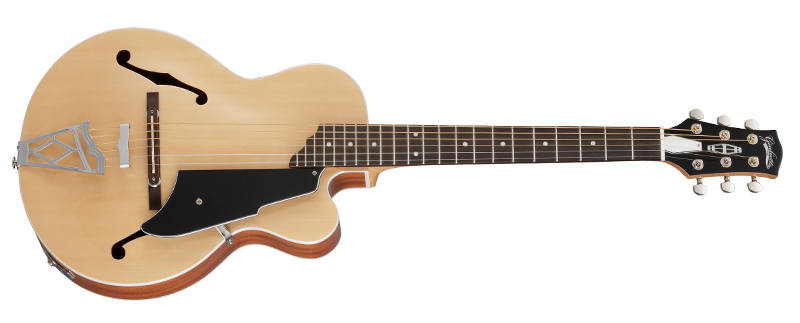 What Did You Buy?
Kristi bought a Giulietta VGA-3PS acoustic/electric hybrid guitar, in natural finish. As far as I know, these are new from Vox for 2021. I'm not really sure though, because I've seen secret stealth fighters launched with more marketing!
It's an electric guitar, because you need plug it in for others to hear you play it. It sounds like an acoustic guitar, and features both passive and active electronics to give you a pretty nice sound through an acoustic guitar amp.
Why Did You Buy It?
I'd taken Merrang! round to our local store Astrings.co.uk to have strap locks fitted. While that was being done, Kristi noticed this understated archtop hanging on the wall, and decided to try it out of curiosity.
Other than when she asked me to try it too, I don't think it left her hands once until after she'd bought it. She wasn't letting this one get away.
It's That Good?
I think it's more a case that it's nicer to play than my old Acoustasonic Telecaster, and also sounds better too. Oh, and it's almost a third of the price of the Acoustasonic.
It's got the same scale length as a Les Paul, so it's more comfortable on the shoulders than Fender's 25.5″ scale length. It also doesn't have the high string tension of the Acoustasonic. The neck profile is nicely rounded, and (for me) it sits nicely in the hand. While the action isn't super-low, it's okay, and again, more playable than the Acoustasonic was.
It also sounds far nicer unplugged than the Acoustasonic ever did. You wouldn't mistake it for an acoustic guitar, for sure, but we both find it perfectly usable unplugged.
Active Electronics, You Say?
Yeah. It's got an onboard pickup system to give you a convincing acoustic guitar tone when you plug it into an acoustic amp. It charges via USB, and according to the docs, it'll work for about 8 hours off a quick 10 minute charge.
It isn't a modelling system, like you get on the Acoustasonic. If you want something like that, there's another model in the Giulietta range that comes with a modelling system. I've never come across one, so I've no idea what that sounds like.
The Floating Bridge Is A Little Awkward
One of the things I don't like about the guitar is the floating bridge. Out the box, the bridge was in the wrong place, throwing out the intonation.
I'm assuming that it left the factory in the right position? So I'm a little concerned about whether or not it'll move again when no-one's looking.
It Would Benefit From A Wider Nut Width
My main gigging guitar is my Auden Bowman 45, so-called because it has a 45mm nut width. That has definitely spoiled me, and these days I find standard electric-sized nut widths a little cramped to play fingerstyle on.
The Giulietta? It comes with a 42mm nut width, and I do find it the string spacing a little on the narrow side. I'd love to know why Vox went with this, or if it just never occurred to them to tinker with this a bit.
Final Thoughts
I'd happily gig this guitar. In fact, when the band's able to resume gigging again, I'm either going to borrow Kristi's, or get one of my own as my backup guitar. It sounds good enough, and it's less bulky (and more affordable) than taking along a second electric guitar.
I'm also tempted to get one to be my late night writing / practice guitar. I know, I've just bought Merrang! for that exact role, but this guitar might be even better at it. I need to borrow it and find out 🙂
Finally, this has the potential to be a useful travel guitar, for working away and holidays. Why? Because we wouldn't need to throw an amp in the car too. It's a laminate body, so it should survive just fine in the included soft case.