AKA how to get the Native Instruments Maschine Mikro MK3 to play nice with Universal Audio's LUNA DAW.
I recently bought a Maschine Mikro MK3, to use for percussion / finger drumming. Have I finally found something that suits me, or will the search be continuing? Read on for my First Impressions.
Table of Contents
What Did You Buy?
I bought a Maschine Mikro MK3 (MMK3 for short), made by Native Instruments. I don't know what the right term for it is. I think of it as a MIDI controller with pads for finger drumming.
I bought it brand new, from good ol' Andertons.
Why brand new? I didn't want to take the risk of getting a second-hand unit with worn-out percussion pads. This thing's basically brand new pedal money, and if it sticks, it'll be with me for the next decade or so I expect.
Why Did You Buy It?
I'm still looking for a solution for programming drums.
I don't have space for a real kit – either analog or digital.
I tried the Roland SPD-SX, but it wasn't for me. I found the physical motion of playing it just felt like the complete opposite of playing a real kit.
So I'm going smaller again – much smaller! I'm hoping that (in time) some sort of finger drumming setup will do it for me.
The Packaging Deserves To Be Called Out
It's 2022, and yet Native Instruments (NI for short) are still using non-recyclable styrofoam in their packaging. There's no excuse for that. It's a dick thing to be doing.
Sadly, it won't be the last time I feel that way about NI before I'm done writing this blog post.
The Out Of The Box Experience Is Very Poor For MIDI Users
It's been one challenge after another with this device … even though the physical hardware seems to be intact and working properly.
I Had To Use A Legacy USB Hub
The first challenge was simply getting it to power on. It doesn't ship with a USB-C cable. Apple switched over to USB-C back in 2016 (over 5 years ago). I appreciate the arguments about e-waste, but …
… the included USB cable doesn't work with any of the USB-C adapters that I own. It's the first piece of hardware I've come across in the last 5+ years that doesn't. I don't know why it doesn't.
Thankfully, I've got a legacy USB port on my TB3 hub, and it does work with that.
If you buy the Maschine Mikro MK3, you might also need to buy a hub too just to use it at all.
Just put a damn USB-C cable in, Native Instruments, or release a Mark 4 that's USB-C throughout.
It Needs A Magic Incantation To Output MIDI
It turns out that this device has two modes … a 'Native Instruments' mode, and a MIDI mode. On first boot-up, the MMMK3 is in 'Native Instruments' mode. That means that my DAW can't see it until I can switch it over to MIDI mode.
This device is marketed and sold as a MIDI controller. You'd think that it'd be easy to do, and (more importantly) easy to find out how to do, right? You'd be wrong.
The problem is that the Native Instruments manuals are all about using this with their software. If there's a Getting Started For MIDI doc, I didn't find it. (I've just checked again, and I still can't spot any mention of using this as a MIDI device in their Getting Started guide.)
A quick google later, and I came across this page. It helpfully tells me to press SHIFT + PROJECT to switch the device into MIDI mode. However, there isn't a button labelled PROJECT on the hardware, and again the Getting Started guide doesn't include a helpful 'this button is the PROJECT button' graphic at all.
The PROJECT button is the one at the very top-left of the device. You'll find that on page 42 of the main manual (section 3.7.4). You have to find the device's main manual first, though!
If there's a way to switch it into MIDI mode using NI's software, I haven't found it yet.
I Can't Change The MIDI Notes
Once in MIDI mode, you're stuck with a fixed set of MIDI notes. (You'll find a very helpful list of them on page 120 of the main manual.) There's no way to change what note each pad emits when you strike it.
That's a big problem for me, because …
UAD LUNA Doesn't Support MIDI Remapping
My main DAW is Universal Audio's LUNA, and it doesn't have the ability to remap incoming MIDI notes. (I think this feature is often called MIDI Templates?)
This means that there's a big disconnect between the MMMK3 hardware and the LUNA software. The MMK3 is emitting one set of MIDI notes, while the drum software in LUNA is mapped onto a different set of MIDI notes. And neither can be adjusted to bridge that gap.
It's incredibly frustrating when you get two tools from industry-leading names, and both are entrenched in their mutual incompatibility like this. It's the consumer who loses out.
Options For Working Around The Maschine Mikro MK3's MIDI Limitation
If you fall into this same problem pit, there's a few options to choose from:
Switch DAWs to one that supports MIDI remapping. This is probably the best choice, as the community probably has a ready-made remapping template that you can just import and go. It'll allow you to get the drums done using your preferred drum plugin, and you can always render it out as a stem track if you want to stick with LUNA for live-tracking of guitar (or for mixing).
Send the Maschine Mikro MK3 back, and buy a hardware unit that does allow you to edit which MIDI note each pad emits. This isn't my field, but it looks like all of the 'budget' MIDI controller devices have the same MIDI limitation. The full-fat Maschine device does support editing the MIDI notes, but it's about 4 times the price of the MMK3.
Find a piece of standalone software to do the MIDI remapping. This one is a fair bit of effort, but it should allow you to stick with the tools you already know and want to use?
Stick with the Native Instruments software / plugins instead, and don't use MIDI at all. I haven't tried it, so I've no idea if the NI plugins work in LUNA or not, but it is an option to consider.
I'm sure there's other options that haven't occurred to me!
I'm Not Buying The Full-Fat NI Maschine
I can't justify the cost of a full-fat Maschine just to use as a MIDI controller (and I'm not inclined to give Native Instruments any more of my money after this experience). So option 2 isn't for me.
I Want To Use My Existing Drum Plugins (For Now, At Least)
I do want to explore what the NI software can do, but not today. I've been using Toontrack's Superior Drummer for many years, and I'd prefer to use what I've already bought (and already like). Plus, NI don't yet have Apple Silicon support working. (They're far from alone!) That rules out option 4 as the way to go.
I May Have To Move On From LUNA Anyway, But Hopefully Not Yet
Option 1 – moving on from LUNA – is getting tempting. Universal Audio's development roadmap seems to be focused more on replacing Avid's Pro Tools in professional studios than anything else. In the meantime, we're stuck without native Apple M1 support, and I am running into bugs that are proving hard to ignore. I'm worried that I'm going to end up having to go with option 1 sooner rather than later. Should I make the switch now, and get it over and done with? The (near) zero-latency of LUNA is important to me, but these new M1 devices appear to be able to run with tiny sample buffers just fine. Is it time to go back to Reaper, or to switch to Logic Pro X?
Can Third Party Software Bridge The Gap?
And what about option 3: finding and configuring something to bridge the gap between the MMK3 and LUNA?
Using MIDI Router To Translate Maschine Mikro MK3 MIDI To Something Usable
There's an app on the App Store called MIDI Router. It cost me £12.99 (ie, a lot cheaper than buying Logic Pro X today). One of the listed features is its ability to translate MIDI notes on the fly. If it works, that sounds like exactly what I need.
What MIDI Does The MMMK3 Emit?
MIDI Router includes a real-time MIDI message monitor. Whenever I strike a pad on the MMMK3, I can see exactly what MIDI message that triggers.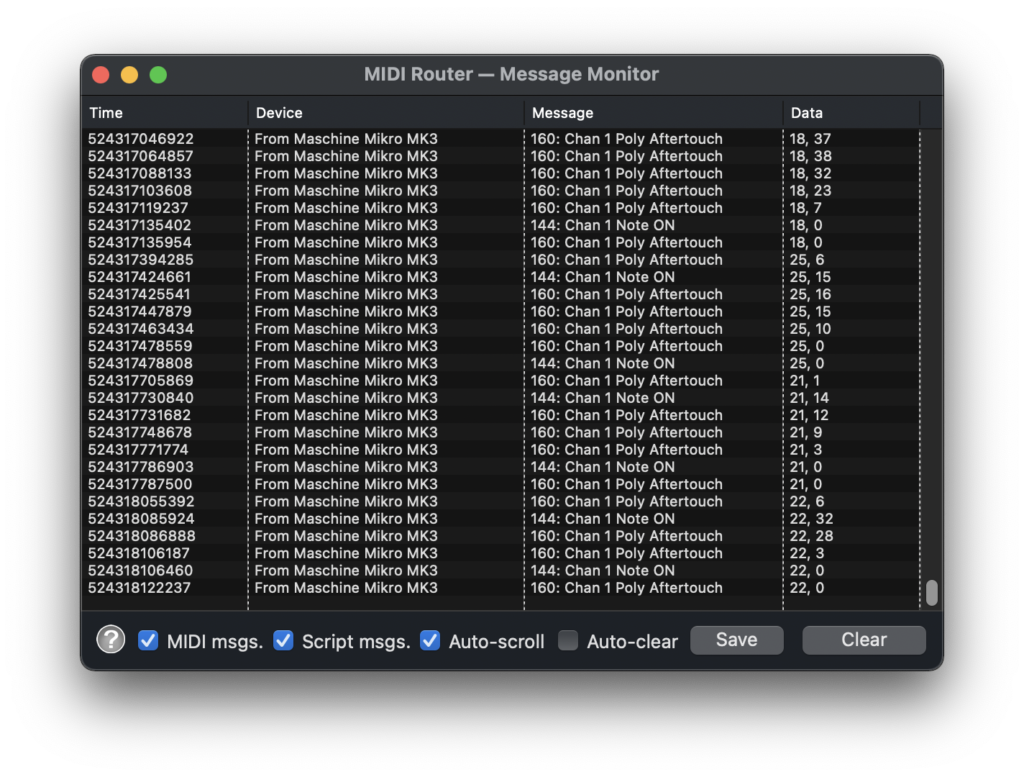 This is awesome. I don't have to guess what the MMMK3 is doing. I can see exactly what is happening, and therefore which MIDI messages I need MIDI Router to translate for me.
In case it helps anyone else, here's what the MMMK3 does when I strike a pad:
The device sends out MIDI message 144 (Note ON). The first data value is the MIDI note (pad 1 is note 12, pad 2 is note 13, and so on up to pad 16 is note 27). The second data value is the velocity value (range of 0-127).
Then, it immediately sends out MIDI message 160 (Poly Aftertouch). The first data value is the MIDI note again, and the second data value is another velocity value. As far as I can see, this velocity value is never the same as the one sent in MIDI message 144.
The MMMK3 continues to send a stream of MIDI message 160 (Poly Aftertouch) until I stop touching the pad.
When I stop touching the pad, it sends out two final MIDI messages: a 144 (Note ON) and a 160 (Poly Aftertouch), both with a velocity of 0 (zero).
If I plot the pad notes on a 4 x 4 grid, they look like this:
Pad 13
24 > ??
Pad 14
25 > ??
Pad 15
26 > ??
Pad 16
27 > ??
Pad 9
20 > ??
Pad 10
21 > ??
Pad 11
22 > ??
Pad 12
23 > ??
Pad 5
16 > ??
Pad 6
17 > ??
Pad 7
18 > ??
Pad 8
19 > ??
Pad 1
12 > ??
Pad 2
13 > ??
Pad 3
14 > ??
Pad 4
15 > ??
Table 1: The MIDI notes emitted by each of the Maschine Mikro MK3's percussion pads.
I think this is very clear. I need to intercept those two MIDI messages, and translate the MIDI note part of each message to a new value.
But what values do I need to translate them to?
Choosing A Pad Layout For Finger Drumming
As a complete beginner at finger drumming, I've no idea what layout will suit me. The next best thing? Find someone who already does this, and use their suggestion as a starting point. I can always adapt it later on if I feel the need to.
I'm going with The Quest For Groove's recommended drum layout:
Pad 13
Low Tom
24 > ??
Pad 14
Mid Tom
25 > ??
Pad 15
High Tom
26 > ??
Pad 16
Cymbal A
27 > ??
Pad 9
Hi Hat
20 > ??
Pad 10
Open Hi Hat
21 > ??
Pad 11
Hi Hat
22 > ??
Pad 12
Ride
23 > ??
Pad 5
Side Stick
16 > ??
Pad 6
Snare
17 > ??
Pad 7
Snare
18 > ??
Pad 8
Side Stick
19 > ??
Pad 1
Cymbal B
12 > ??
Pad 2
Kick
13 > ??
Pad 3
Kick
14 > ??
Pad 4
Cymbal C
15 > ??
Table 2: The Quest For Groove's recommended percussion pad layout.
I like the look of this. I can see how the duplicated kick, snare, side stick and hi hat pads will allow me to use both hands when performing finger drumming (one day …). And many drum kits have variations on their kick, snare, side stick and hi hats. I can stick those onto each pad, to give me more options.
Now I just need to track down these instruments in LUNA's Shape plugin, and work out what the corresponding MIDI notes need to be. (I'll do the same for Superior Drummer 3 too in a follow-up blog post.)
This is where we have to switch to a trial-and-error approach, I'm afraid.
Mapping The Pads For LUNA Shape Drums
There was once a standard for MIDI drum notes, but as far as I can tell, it's only a starting point these days. Different drum kits in LUNA's Shape plugin seem to use different MIDI notes for the exact same virtual instrument.
I ended up trying the different drum kits to see which one I liked, and then using LUNA's MIDI Keyboard Mode (you'll find it under the Window menu) to work out which MIDI notes I want each pad to emit. I plotted these in the table below, and used this chart to convert the keyboard-style note names (C1, D1, E1, and so on) to their MIDI note values:
Pad 13
Low Tom
24 > F2 / 41
Pad 14
Mid Tom
25 > G2 / 43
Pad 15
High Tom
26 > A2 / 45
Pad 16
Cymbal A
27 > C3 / 48
Pad 9
Hi Hat
20 > F#2 / 42
Pad 10
Open Hi Hat
21 > G#2 / 46
Pad 11
Hi Hat
22 > F#2 / 42
Pad 12
Ride
23 > D#3 / 51
Pad 5
Side Stick
16 > C#2 / 37
Pad 6
Snare
17 > E2 / 40
Pad 7
Snare
18 > D2 / 38
Pad 8
Side Stick
19 > C#2 / 37
Pad 1
Cymbal B
12 > C#3 / 48
Pad 2
Kick
13 > B2 / 35
Pad 3
Kick
14 > C2 / 36
Pad 4
Cymbal C
15 > D3 / 50
Table 3: Finger-drumming pad layout and MIDI notes for Shape's OWD Kit Live 2.
Table 3 tells me:
which percussion sound I want each pad to trigger
which MIDI notes each pad emits
which MIDI notes I want LUNA's Shape to receive
All I have to do now is get MIDI Router to do the translation.
Scripting MIDI Router To Translate MIDI Notes
MIDI Router doesn't have built-in support for mapping tables. This would be a killer feature to add in a future release. I'm not going to be the only person who needs an app like MIDI Router to get the intransigent to talk to the obstinate!
Fortunately, it does have an embedded scripting engine. I can knock up a script for that to implement the mapping table for me. The scripting language is called Xojoscript, and it's pretty straight forward for what we need here.
Here's a copy of the script. I've made it as simple as possible:
// the mappingTable makes it easy to copy this script
// and just change the output MIDI notes
var mappingTable(17) as Integer

// Pad 1 == Cymbal B
mappingTable(0) = 48

// Pad 2 == Kick
mappingTable(1) = 35
// Pad 3 == Kick
mappingTable(2) = 36

// Pad 4 == Cymbal C
mappingTable(3) = 50

// Pad 5 == Side Shot
mappingTable(4) = 37

// Pad 6 == Snare
mappingTable(5) = 40
// Pad 7 == Snare
mappingTable(6) = 38

// Pad 8 == Side Shot
mappingTable(7) = 37

// Pad 9 == Hi Hat
mappingTable(8) = 42

// Pad 10 == Open Hi Hat
mappingTable(9) = 46

// Pad 11 == Hi Hat
mappingTable(10) = 42

// Pad 12 == Ride
mappingTable(11) = 51

// Pad 13 == Low Tom
mappingTable(12) = 41

// Pad 14 == Mid Tom
mappingTable(13) = 43

// Pad 15 == Hi Tom
mappingTable(14) = 45

// Pad 16 == Cymbal A
mappingTable(15) = 48

// convert notes if needed
if status  = 144 or status = 160 then
  if data1 >= 12 or data1 <= 27 then
    data1 = mappingTable(data1-12)
  end
end
Please remember: the values in that script will only work with the OWD Kits in LUNA's Shape plugin. You'll need to work out new values if you want to use a different kit in LUNA's Shape plugin. The same advice applies if you want to use a different piece of percussion software, like Superior Drummer 3.
Oh, and you'll need to change the mappingTable values if you want to use a different layout on your MMMK3 too.
This script works a treat!
We Have A Usable Percussion Controller (At Last!)
After going through the discovery phase and learning process above, I can now use the Maschine Mikro MK3 as a MIDI controller with Universal Audio's LUNA and its Shape plugin.
The only remaining question is: was it worth it? There's no easy answer to that, at this early stage.
While the kits in Shape are usable, I'm not sure they're what I would use on a final track. As a drum plugin, Shape is missing key features that have been standard for many years.
I can't send the individual instruments (kick, snare, hi hat, etc etc) to different tracks. That greatly limits how I can mix the drum kit.
Different instruments in the same kit have significantly different volume levels, and there doesn't seem to be a way to adjust them one-by-one. And (because I can't send them to different tracks) I can't fix them myself in post.
I can see me using Shape for writing guide tracks, and practicing finger drumming. Shape allows me to keep using the (near) zero latency mode in LUNA when tracking guitars and base, which (for me) is LUNA's killer feature.
For the final drum tracks, I'll have to perform those in Reaper (which I already own, and where I can run Superior Drummer 3 in all its glory), and then bounce the audio tracks back into LUNA for mixing. It's not the world's most efficient workflow, but it'll do until LUNA catches up with Reaper's virtual instrument support.
(I've found a forum post explaining how to use Superior Drummer 3 directly in LUNA. It came with a caveat about CPU usage and playback glitches, which has definitely put me off trying it for now.)
The other reason there's no easy answer is that finger drumming is a skill that's new to me. I'm going to need time to practice it, and to discover whether or not it's the solution to my percussion woes.
But at least I'm at the point now where I can practice it using my DAW of choice. And that's something!
Final Thoughts
This has been a difficult First Impressions to write.
On the positive front, the hardware itself seems well made. It's a mature product, and every online review I read before buying said that the pads are amongst the best out there. So, once I've gotten over the teething troubles, it should be exactly what I need.
But what an utterly frustrating initial experience. It's taken me a whole week just to get the Maschine Mikro MK3 and LUNA working together. (I got the unit on the Tuesday, and I'm finishing up this blog post on the following Monday evening, now that the MIDI Router script is working and tested.)
I think there's definitely faults on both sides here. It's a bit of a dick move for NI to sell a device with a fixed MIDI note output, and LUNA's minimal support for virtual instruments and MIDI is a glaring hole that sets it well behind the competition.
Right now, though, both companies have much bigger problems, as they work to finally release Apple Silicon support before the 2nd year anniversary comes around this summer. Both companies sell hardware as a gateway into (presumably much more lucrative) software sales, and (whatever your own feelings) Apple is popular among creatives (so much so, LUNA is Apple-only atm). I hope both companies get there in the end.
All I can say is I'm grateful to the developer of MIDI Router. This little app is the only reason I'm not sending the MMMK3 back for a refund, or finding the same amount again to finally buy Logic Pro X or Studio One.