I'm lucky enough to own a physical Tweed Deluxe amp. I also think that a Tweed Deluxe amp rig for home use in 2023 has become so expensive, it's difficult to justify. So I've started looking at alternatives, to see how they compare to the real thing.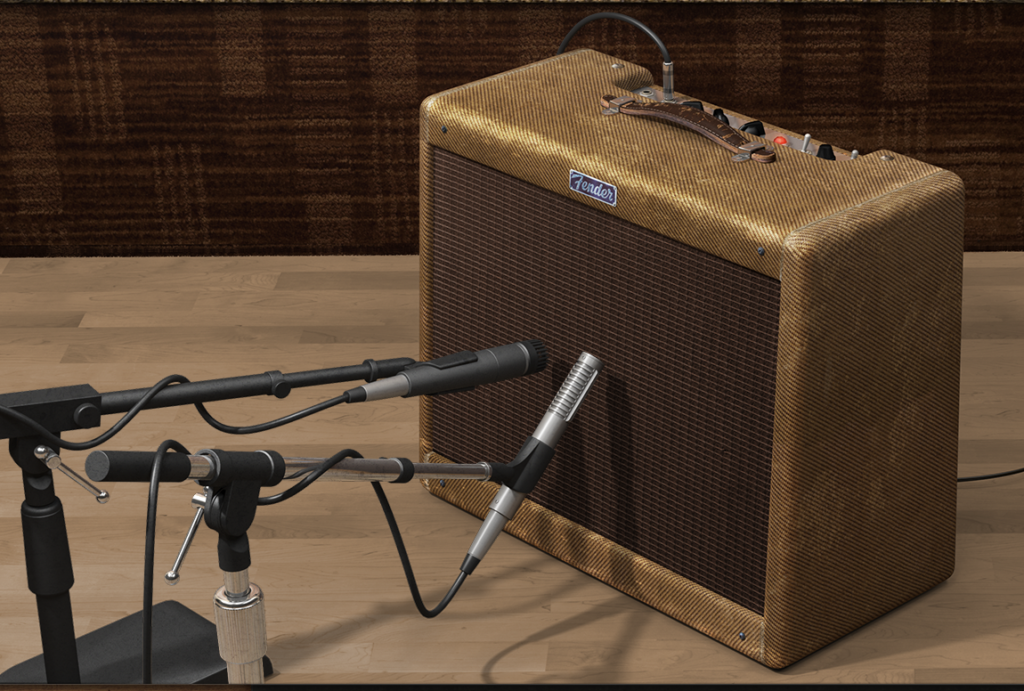 First up is the Fender 55 Tweed Deluxe plugin from Universal Audio.
Table of Contents
tl;dr
The Fender 55 Tweed Deluxe plugin from Universal Audio sounds convincing to me for the classic Tweed Deluxe rhythm tone. And it's a lot more convenient than my real amp.
I happily recommend it to anyone who wants 5e3 tones without the cost of a Fender Custom 57 Deluxe reissue amp – provided you've already got a UAD Apollo audio interface.
What Is The Fender 55 Tweed Deluxe Plugin?
The Fender 55 Tweed Deluxe plugin is a software plugin from Universal Audio.
It's a digital model of two Fender Tweed Deluxe amps from 1955.
Why two? Perhaps it helped to avoid major differences due to the natural variation from amp to amp? The UAD website doesn't say.
What Do I Need To Use It?
UAD's Fender 55 Tweed Deluxe plugin doesn't run on PCs or Macs.
At the time of writing, the plugin only runs on the UAD Apollo range of audio interfaces. If you don't have one of these interfaces, you can't use the plugin.
UAD are in the process of making more and more of their plugins run natively. Maybe they'll port this plugin over at some point? That would bring it to a wider audience.
My Rig Today
My signal chain is:
Squier 50s Esquire with Seymour Duncan Antiquity bridge pickup (aka The Squirrel)
into Input 1 on my Apollo x6 audio interface
into the Fender 55 Tweed Deluxe plugin
into the EP-34 tape delay plugin
into the Precision Reflection Engine plugin (setup for spring reverb)
and into my DAW.
How Does It Sound?
I'm not going to explore a wide range of sounds here. When I'm using my Tweed Deluxe amp, I just set it up for the classic rhythm drive sound and leave it there:
plugged into Instrument 1 input
Instrument Volume at 4
Mic Volume at 8
I've left the tone round about noon, between 6 and 7.
Here's a screenshot of my settings: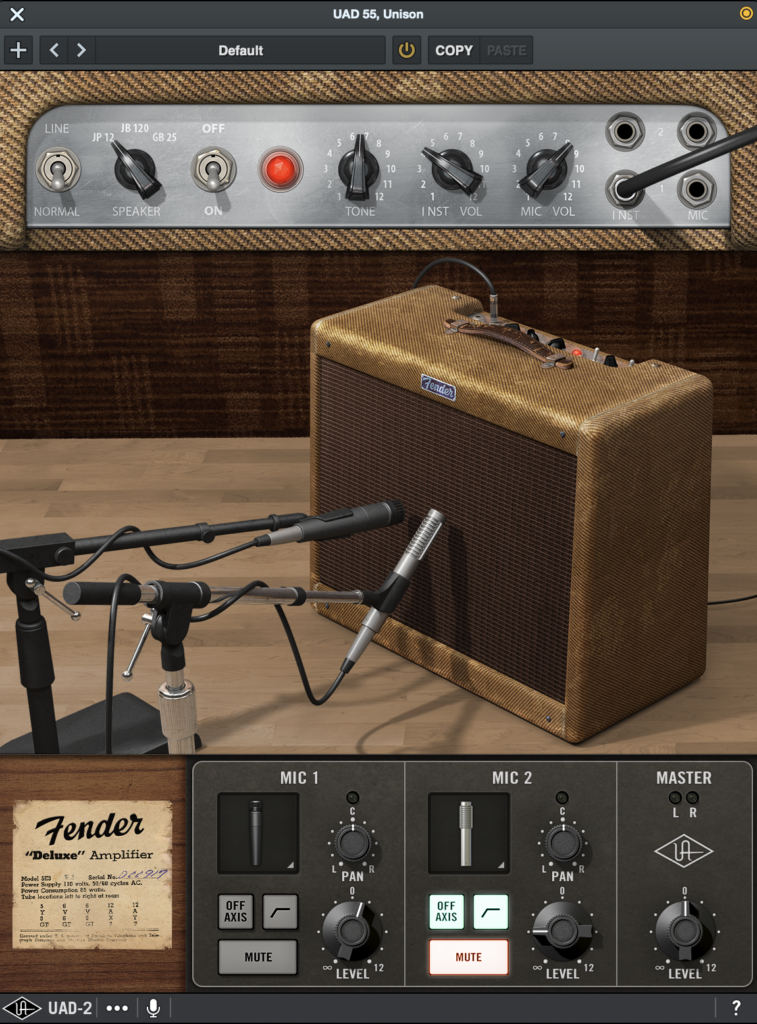 And here's what it sounds like:
To my ears, that's pretty convincing, especially when compared to my Tweed Deluxe:
I can hear a clear difference in the mid-range between the two: the plugin is more scooped compared to my amp. That could easily be down to the IRs that I've used when recording my amp.
Oh, and my amp sounds more overdriven, but I've been saying for years that my amp seems to overdrive a lot more than other Tweed Deluxe amps that I've seen in demos and videos. Here, I suspect the plugin is more accurate than my amp! At the very least, I cannot fault the plugin for this.
Which Do You Prefer?
That's quite a tough one to answer.
The plugin is convincing enough to my ears, and has all the convenience of a digital solution: perfect recall, zero hassle, and the like.
The amp is a pain to setup and play with, because I've got to double check that it's still plugged into the attenuator first. If I get that wrong, no more amp 😱. Definitely takes the fun out of it.
But, every time I do play through the real amp, it puts a smile on my face. And I can't say that about using the plugin.
Plus, I can use the real amp without firing up my DAW and starting a session. That's incredibly convenient to me, in its own way. And I know it's not just me who values that. A friend of mine has just replaced his hybrid signal chain with a fully-analog one, so that he too can just sit down and play without having to reach for his DAW every time.
That's a long-winded way of me saying that I'm torn between the two.
Final Thoughts
As long as you're already a UAD Apollo owner, then I think this plugin is a good way to get 5e3 tweed tones for a lot less than the real amp. Unless you must have it immediately for a project, I'd definitely recommend picking up the plugin in one of UAD's regular plugin sales.
I'm glad I chose this plugin first for this series. It has set quite a high bar for other alternatives to clear. I wonder if any of them will?