This conversation was originally posted on my Twitter feed.
Good morning, and welcome to #CoffeeAndKlon. Starting off with this question from last night: can the Klon make the Mojomojo sound any good? (PS I've dusted the Klon for y'all this morning)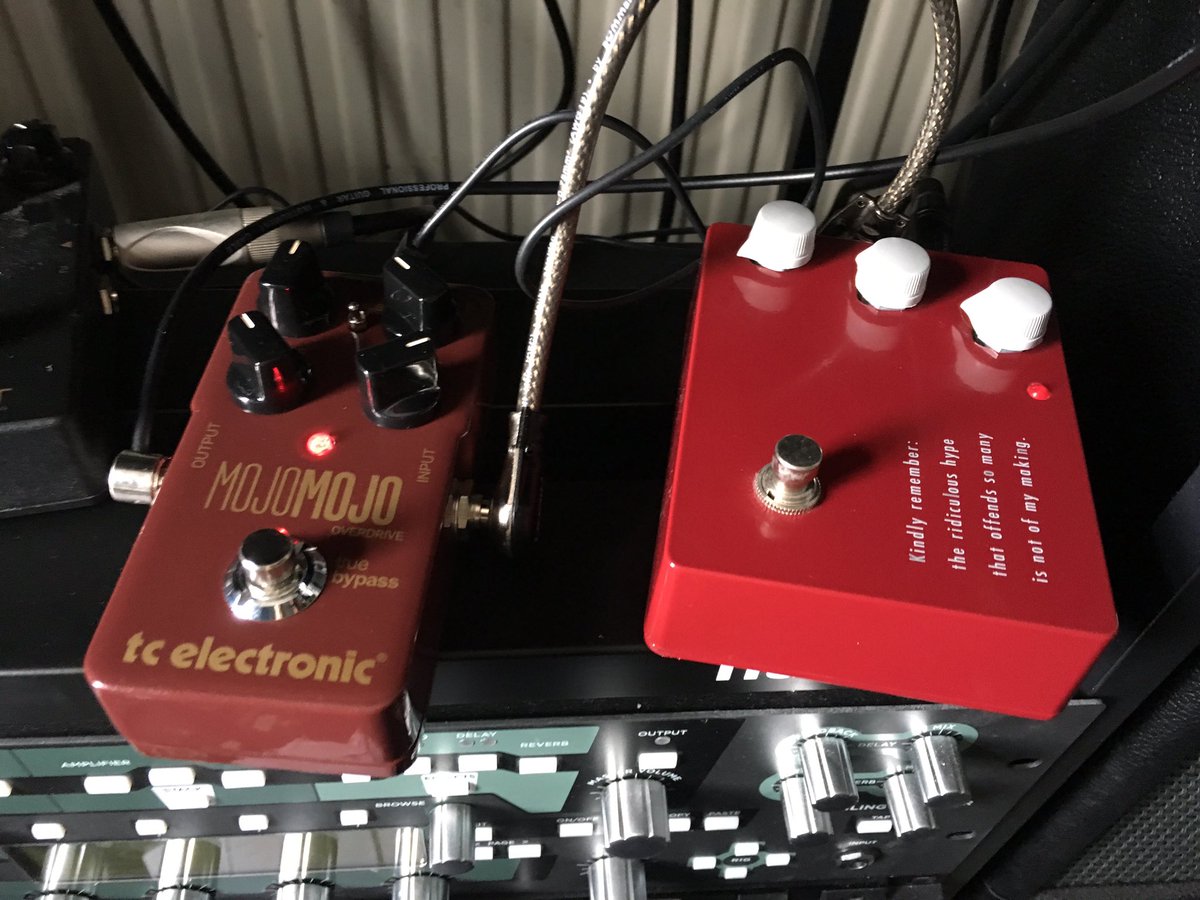 The Mojomojo isn't a ridiculous pedal like the Metal Zone or Digital Metalizer are. (See last night's thread for context). It's probably the worst drive pedal I've got to hand right now.
Can the mighty Klon help it out?
(It's not just my opinion. When I posted my Take The Plexi Challenge a year ago, the clip recorded using the Mojomojo was everyone's least favourite tone.)
So what makes the Mojomojo what it is? If you could build a drive circuit out of a marshmallow, it would sound like a Mojomojo. It's just the softest-sounding drive pedal I've come across.
That's my only criticism against it. Otherwise, it sounds perfectly fine. Decent amount of frequency range, decent dynamics, good strong separation. 30 years ago, I'd have been delighted if this had been the worst pedal any of us had.
So, now I've finished my coffee, the question is: can a Klon make this pedal sound better?
A quick break for 2nd coffee 🙂 Almost feel human and functional now.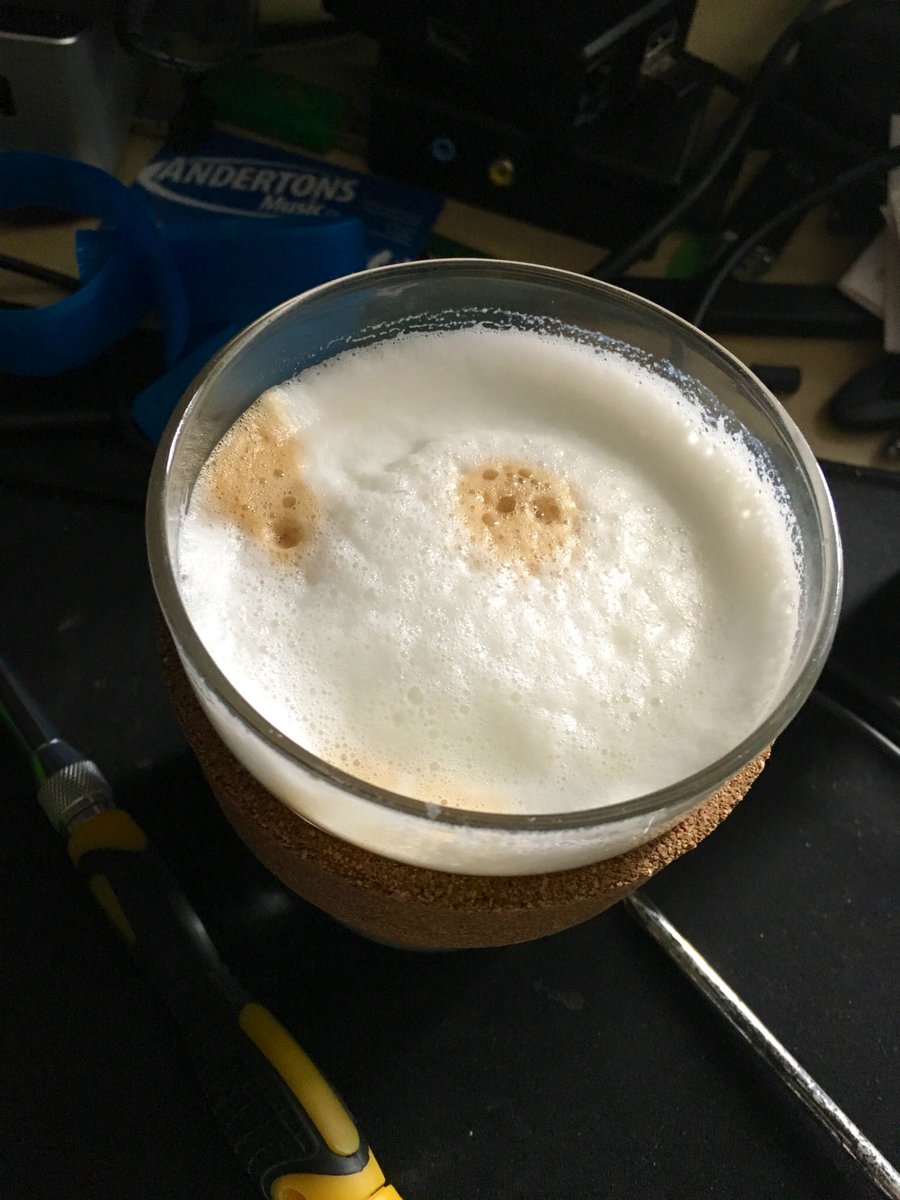 The Klon delivers a bit of a mid-boost. It's one of the ways that the Klon helps lift a guitar out of the mix a bit – and why it's such a desirable pedal. That should help bring out the character of the Mojomojo a bit.
The trick with a Klon – imho – is that it doesn't do anything interesting at unity volume or below. The magic happens when you're using it as a boost.
Not all pedals react well to a boosted input signal.
The Klon also has an active treble control. I can nudge that up bit by bit to add some bite to the final sound. So does the Mojomojo. There's a little less noise if I turn the Klon's treble up a bit, and the Mojomojo's up to 3 o'clock.
The overall result is to turn the Mojomojo into a marshmallow with a bit more bite. It still doesn't crunch, but it's got much more life to it now. It can definitely growl now – and that's a sound I can make use of.
To finish off, I'm going to switch out the Klon for one of the JRAD Archer klones. Curious to hear how that does.
I grabbed the white Archer. To my ears, it does not do what my Klon does. There's a perceived loss of bass. Not what I want for noodling at home. In a mix, this might be a good thing.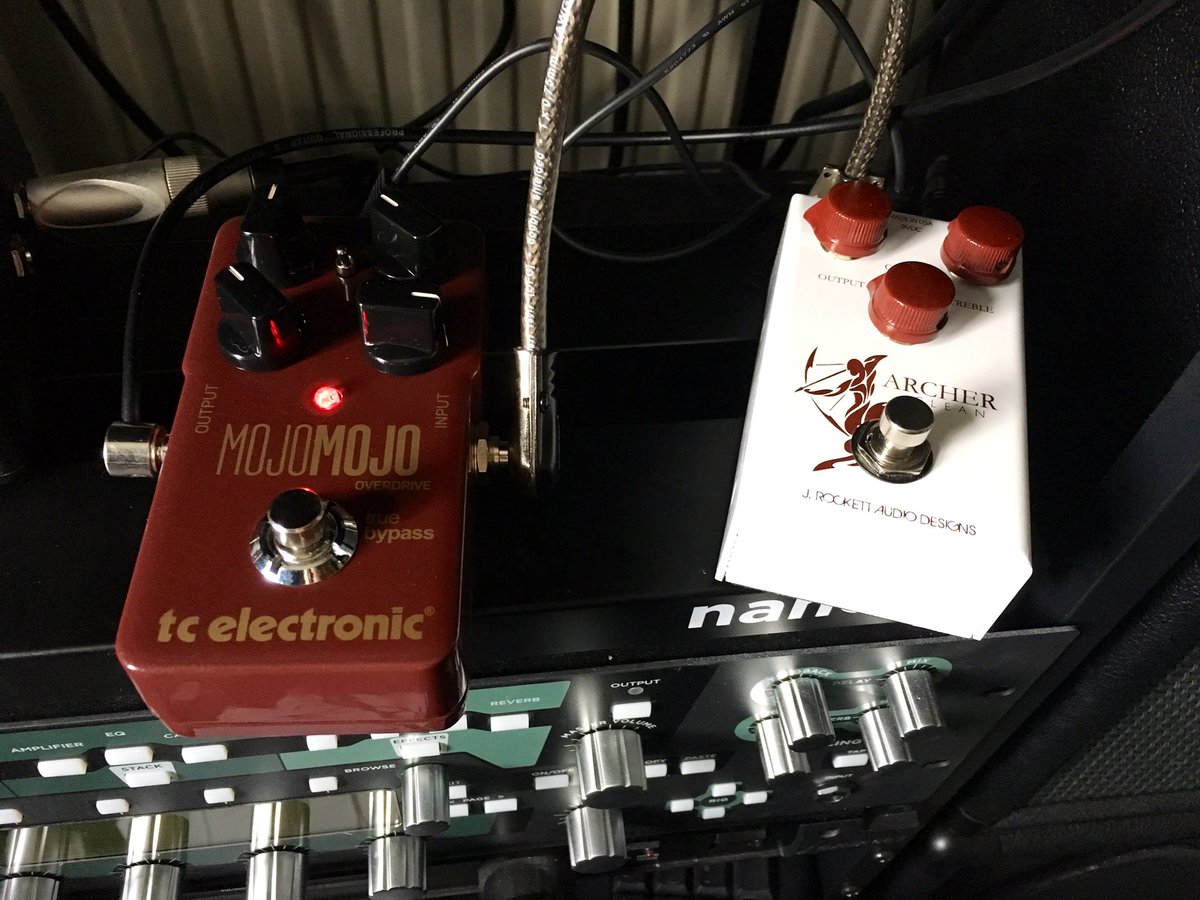 That's it for coffee and Klon this morning. If you enjoyed it, please do let me know.
What should I boost with a Klon in the future?