This conversation was originally published to my Twitter feed.
Arrived this morning … will the Sovereign from Wampler prove to be the king of drive pedals? Spoiler alert: no. It's a finicky pedal to dial in. Got some great sweet spots though. Let me walk you through them …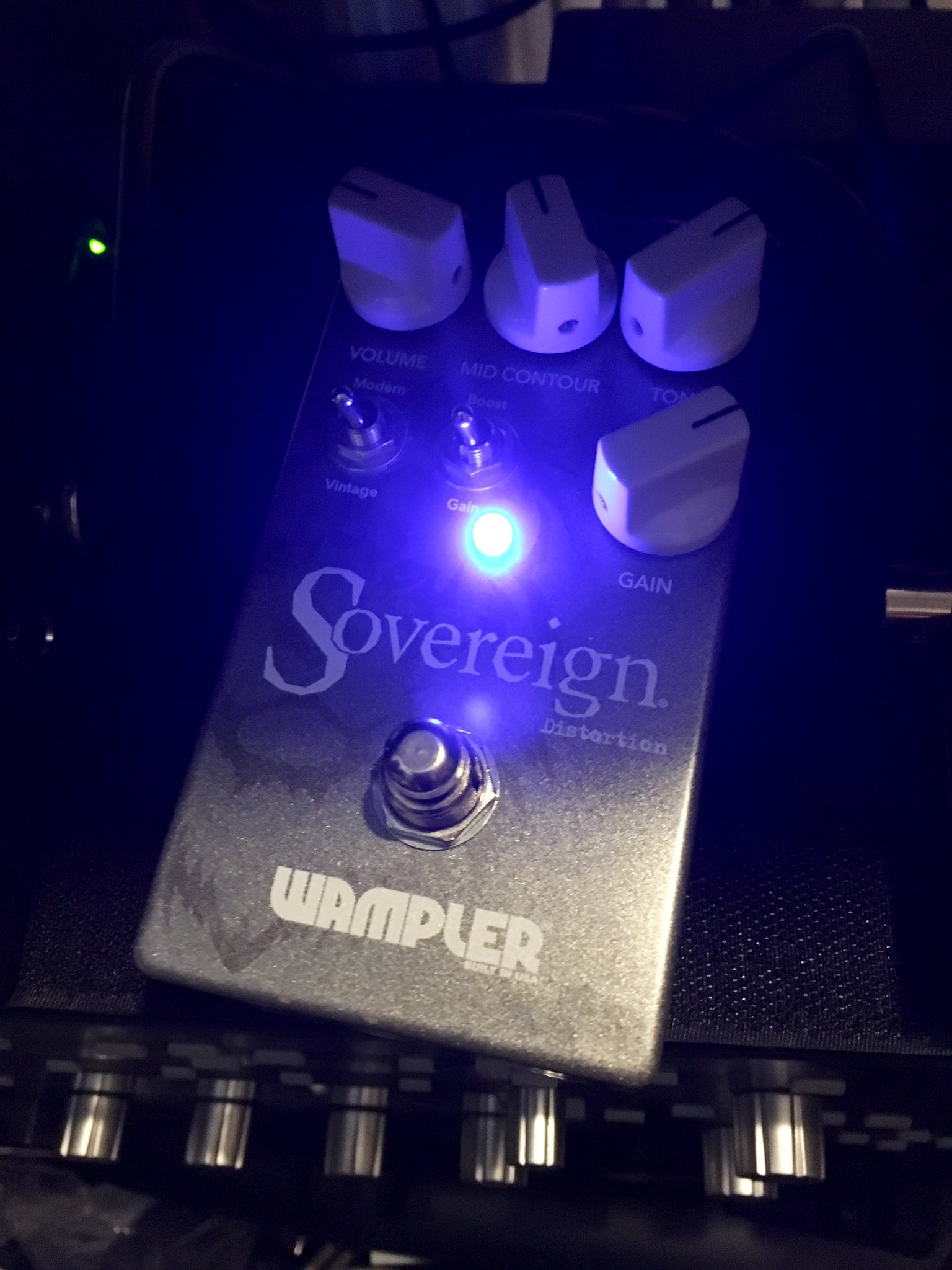 What makes this pedal finicky? Henning covers it very well in his video review of the Sovereign.
There's something going on in the low-end of this pedal that you can't dial out, and that makes it challenging to use with humbuckers.
I had that problem with my first copy of this pedal, which is why I sold it a few years ago now. Just plugged this one in, and yeah, still not a great tone with humbuckers.
Brian makes great pedals. I'm not giving up on it just yet.
I'm a different player than I was when I first had this pedal. My rig is different. My guitar is different. That's why I'm taking a #SecondBite at this, and other pedals that I've had and sold on.
This time, I'm starting with a different premise.
What Gear Did Brian Use?
This is one of Brian's older circuits. Let's assume he had limited gear back then. From his videos, looks like he mostly had Teles into Fender amps. Why don't we start with that, and go from there?
I'm running the Sovereign straight into my Blackstar Studio 10 6L6. It has become my favourite Fender-voiced amp for #HomeTone use. I'll try it through the Origin another time.
I'm going to use it with the Fender Vintera 60s Modified Tele that I recently got. It's a monster for fat tones, and it's a great Tele for a Les Paul player like me.
The Sovereign shines with the Tele's bridge pickup. Suddenly, all that low-end from the pedal … just works. It fills in the overall sound really nicely. Definitely a sweet spot.
What about P90s? If I dig out my red Special (pun intended – sorry Andrew!) Les Paul w/ P90s, it's an interesting story. This guitar lacks the mid-range thickness that I associate with P90s.
That's a good thing in this case.
First thing to point out – have to play on the bridge pickup. Even in the middle position, the pedal's low-end thickness doesn't suit. These aren't hot pickups, but I still had to roll down the volume and tone to tame the harshness.
And there it is – a Tele-ish tone that I suspect would work well in a mix with my Tele. That's a big win for me. I love being able to pair things up for recording.
You can probably tell that I'm warming to this pedal as I go along. I've already got gear that suits my normal Les Paul. Having something that suits other guitars gives me options I may not have had before.
But I Love My Les Paul
So, with everything I've learned, let's throw a Les Paul Standard at it. Again, bridge pickup only, and rolling back volume and tone to tame the pedal a bit. I found that harder to dial in. Too easy for the pedal to sound harsh.
Thing is, I'm not a bridge pickup player. One of the reasons I love Les Pauls is the tone from the middle position. Roll neck volume down to 4, switch to middle position. Bring bridge volume up to get the dirt back, then tone up to find the right bite.
That's a much nicer sound than where I started from 2+ hours ago 🙂 Can't see me picking this over other pedals for my Les Paul. When I want to use the Tele though, this might become a go-to for that.
What Else?
I've had no success stacking this pedal (so far). It's dead quiet – stunningly so. That's not the problem. Everything I've tried in front of it has made the pedal sound worse.
So yeah, that my #SecondBite at using the Wampler Sovereign. I hope you found the process interesting. Let me know what you think.