This conversation was first posted to my Twitter feed.
Wasn't expecting them to arrive together like this. Seeing as they have, I'm sorely tempted to compare them head-to-head 🙂
Wasn't expecting them to arrive together like this. Seeing as they have, I'm sorely tempted to compare them head-to-head 🙂

— Stuart Herbert (@stuherbert) July 20, 2019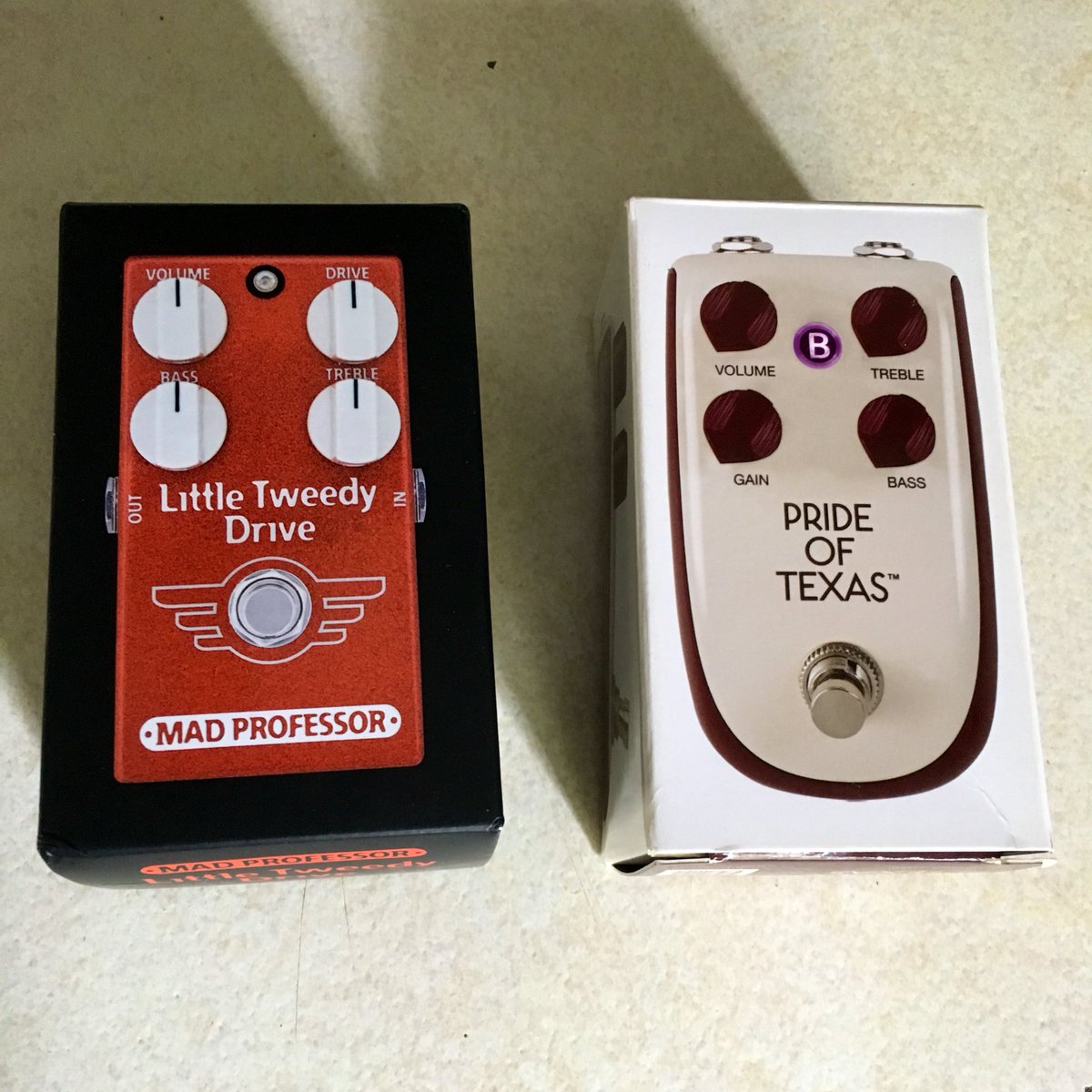 Let's set the scene. My go-to tone is something like a Honey Bee or Sweet Honey Overdrive (SHOD for short) into a blackface-sounding clean amp. It's kind-of a small American amp sound, from the time of chrome and open-top cruising.
I'm hoping that both of these pedals will give me more shades of that same flavour … just like different 'plexi'-voiced pedals give me choices for the classic British rock tone.
Esp the first pedal – the Little Tweedy Drive by Mad Professor. The name – and their YouTube demos! – say that this should nail that sound.
One important point: I've never owned an actual Fender Tweed amp, and I've never even played through one. I can't compare these pedals to the real thing. All I can do is compare them to each other, and to the SHOD or the Honey Bee.
Both the Little Tweedy Drive and the Pride of Texas have the same control layout: volume, gain, bass and treble EQ. Single 'tone' EQ controls can be frustrating to work with. So this should be an improvement over the SHOD.
The Little Tweedy Drive
First up – the Little Tweedy Drive, by Mad Professor. First note: it sounds quite similar to the SHOD. I'll have to A/B them to check that. But there's an in-your-face difference: the Little Tweedy sounds like a distorting speaker!
Hrm …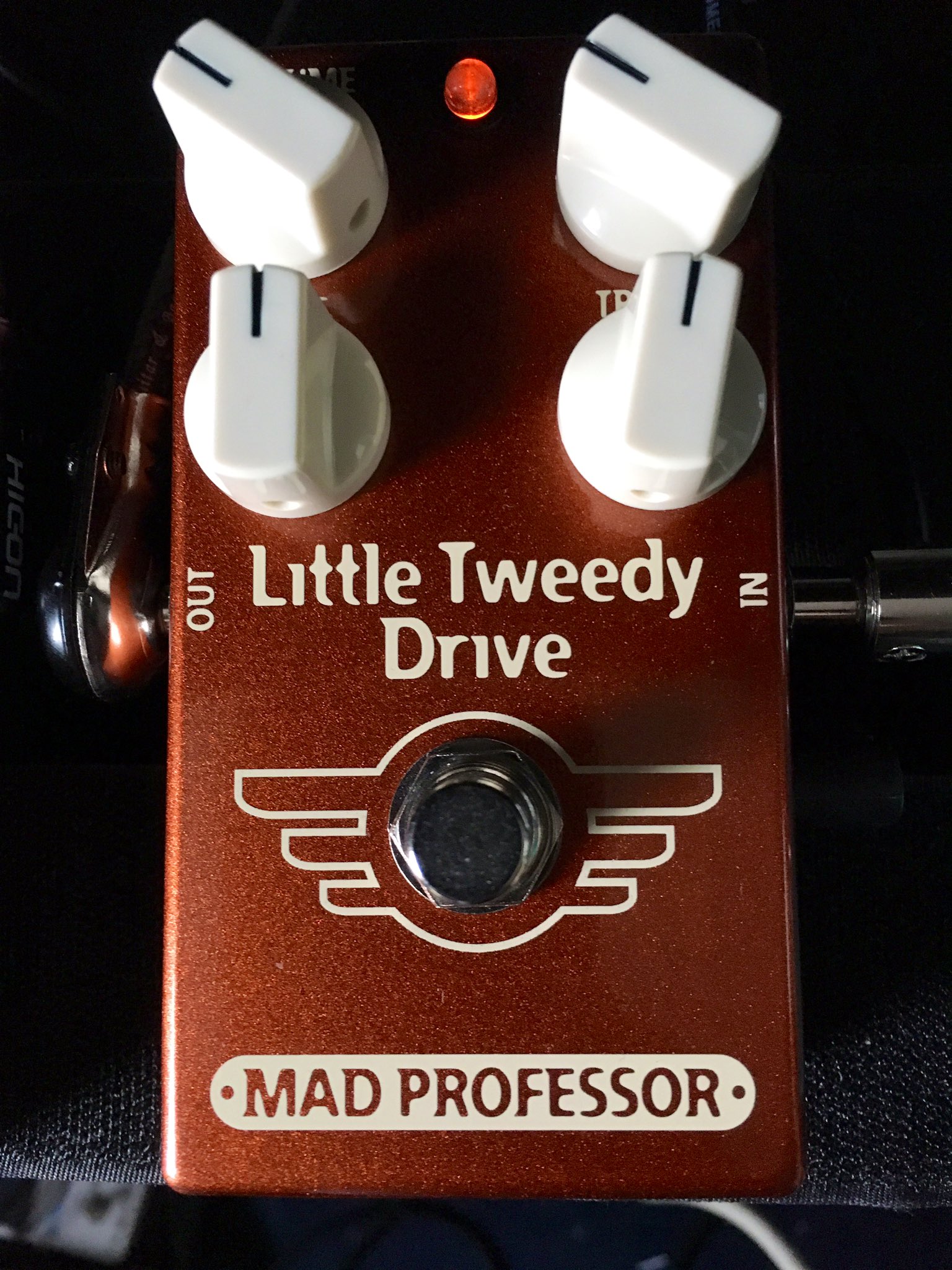 As the gain goes past 12 o'clock, this thing basically turns into a fuzz tone, it's so overblown. Not what I was after, and something I don't know how to make good use of.
I'm going to have to take that one away and look into it. I don't know whether it's meant to do that, or whether it doesn't like my amp, or whether it's just faulty. My guess is that it's deliberate, that it's trying to recreate how these small amps act when cranked.
Very quickly, I did A/B it against the SHOD. Even ignoring the distorted speaker sound of the Little Tweedy, they're quite different. The SHOD is much more mid-focused than the Little Tweedy. The Little Tweedy is a much fuller sound. If only it didn't distort like that …
The Pride of Texas
Next up, the Danelectro Pride of Texas. This thing looks and feels really good in person. Does the sound live up to the physical experience? No, not for me.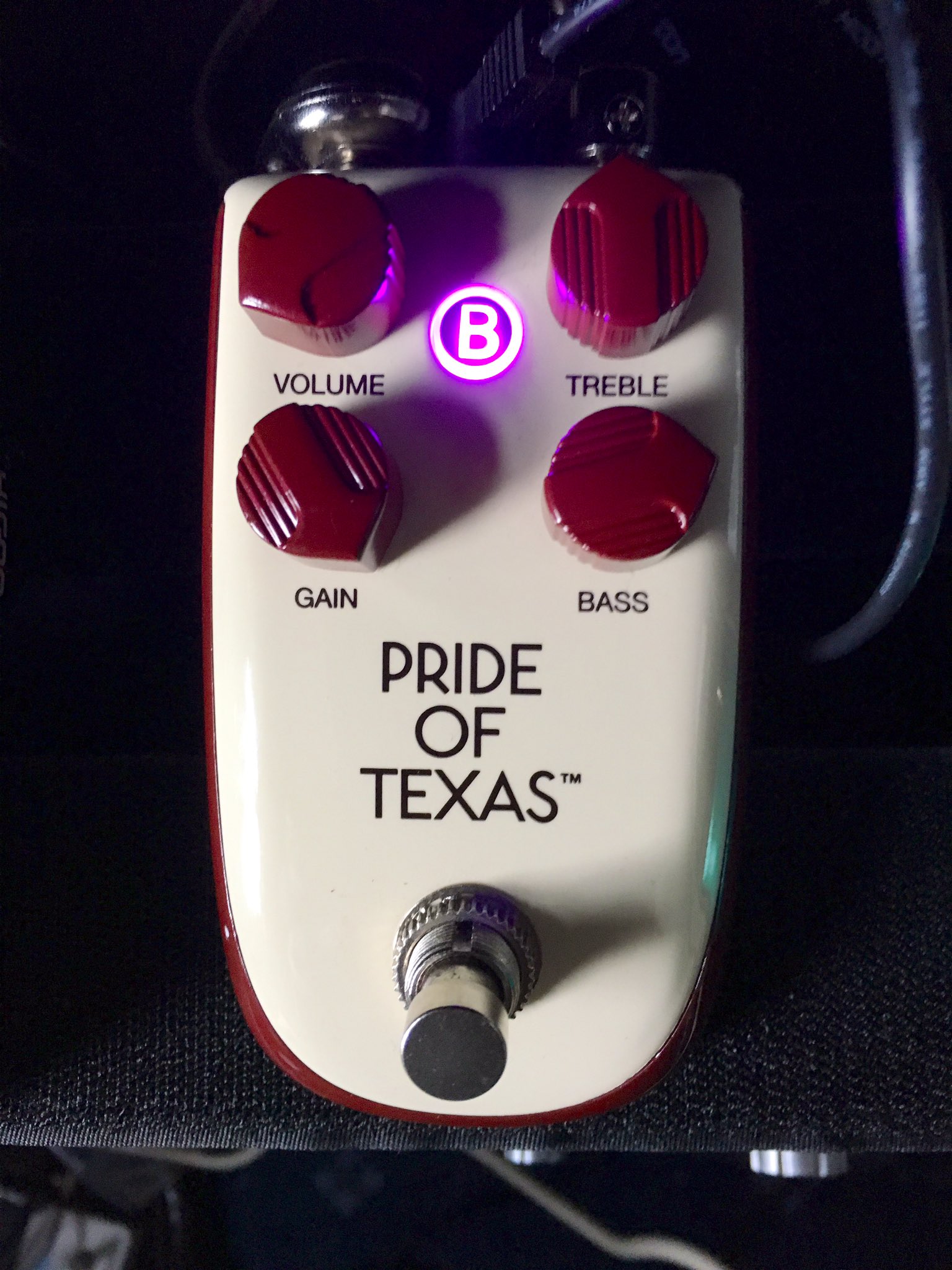 Unity volume on the pedal is one hair's width above dead silent. I find that really difficult to work with. Even with the gain cranked, this pedal's almost clean. This isn't a drive pedal, it's a boost, surely?
Let me share the text off the side of the box here.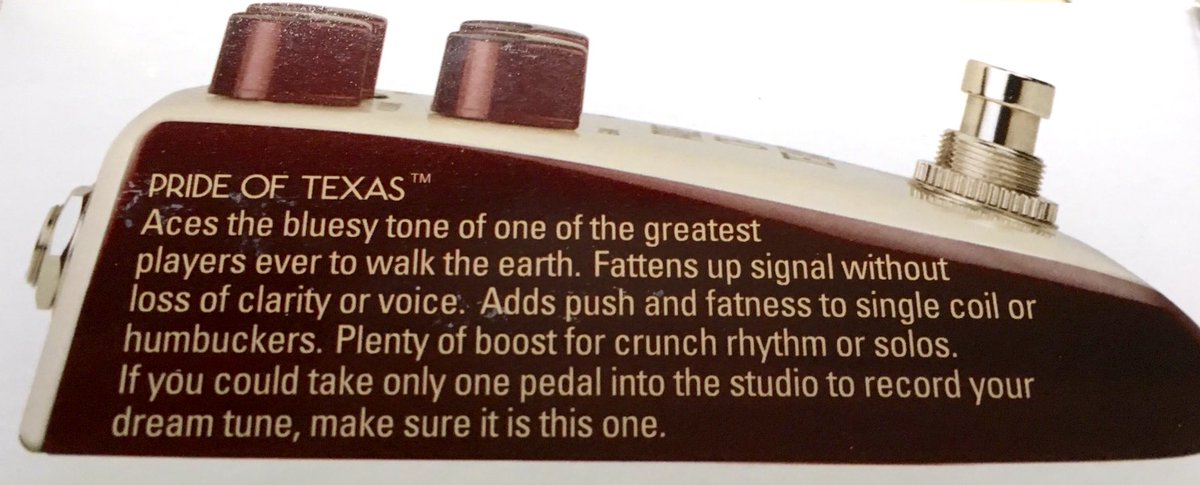 This is an SRV-in-a-box thing. Somehow I completely missed that when the pedal first launched. He was a famous TubeScreamer user. So this should actually be a TS-style circuit, just optimised as a crazy boost? That's novel.
And that's definitely what I'm hearing. It's got that 'where did all the low-end go?' that happens when you boost an amp with a TS pedal. Okay, let's try and use it like that. Not a setup I use myself, so don't hate me if I don't do it right.
I've just grabbed the JRAD Animal, and moved the Pride Of Texas to be a boost into it. A bit like boosting a crunchy Marshall with a TS (I hope). Oh yes, that's much better! That's a lot of fun 🙂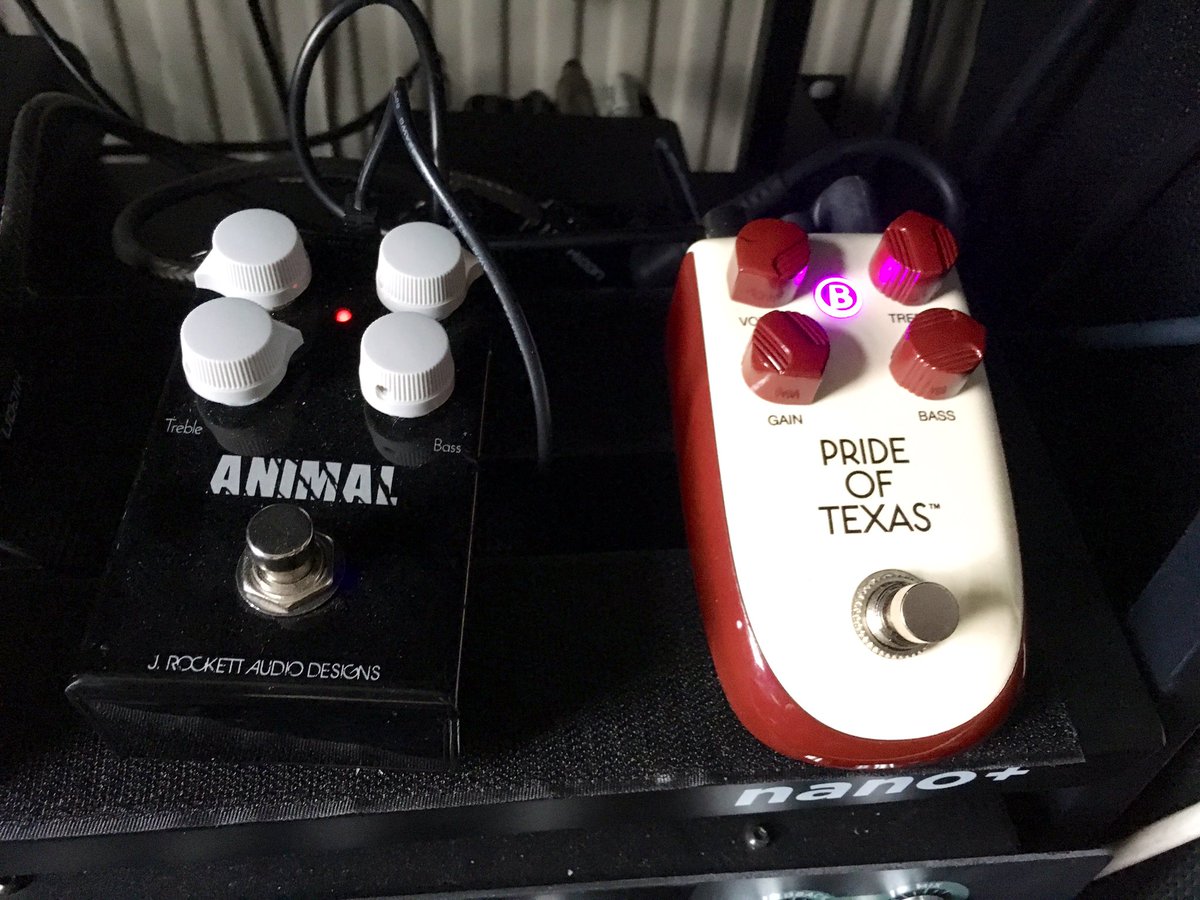 Just for my own ears, let's A/B it against an actual TubeScreamer. Yeah, I think they're very similar when used as boosts. Main difference to my cloth ears? The Pride of Texas has more bottom end, thanks to the EQ setup.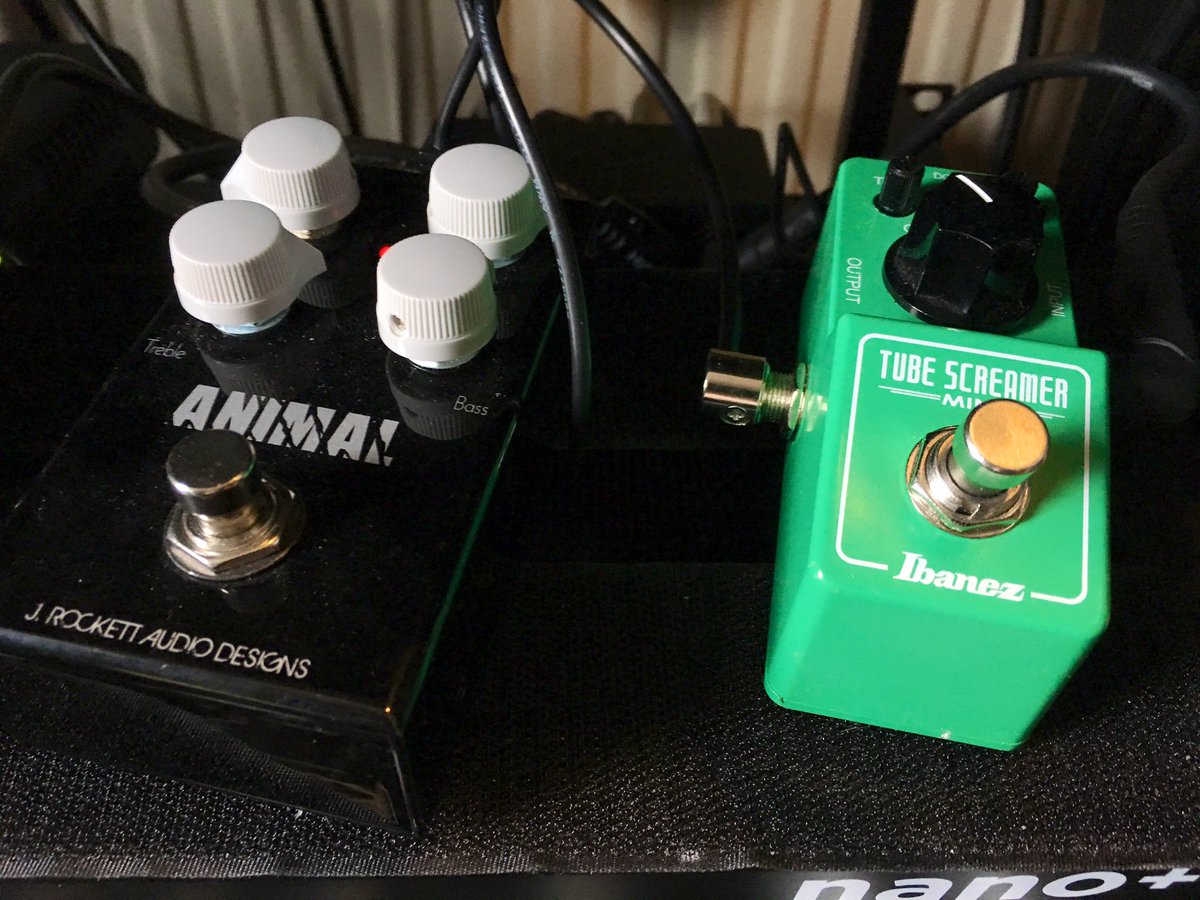 Well, that is a very happy accident. This has a real chance of joining the Klon KTR, Brit Blue, Overzoid od1 and Forest Green in my pantheon of go-to boost pedals.
Concluding Thoughts
So to sum up …
The Little Tweedy Drive doesn't sound like an SHOD, and does sound like a distorting speaker, and the Pride of Texas is a TS / crazy boost hybrid and not a primary drive pedal at all. Well, at least they both give me something I don't already have!
They turned out to be utterly different from each other, not just in tone, but also in how to use them. I definitely learned something today. I hope I kept you entertained while I did 🙂