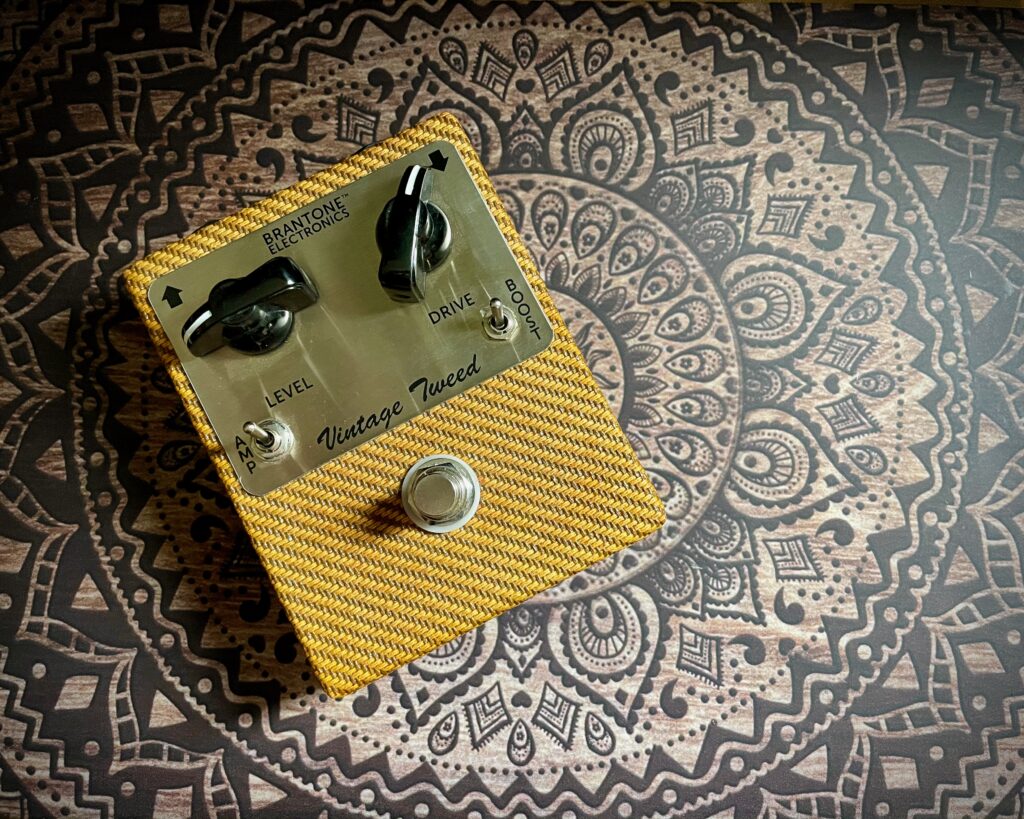 Earlier in March, I picked up a second-hand Brantone Electronics Vintage Tweed overdrive pedal.
Read on for my First impressions. Spoiler alert: I like this pedal a lot.
What Did You Buy?
I bought a Brantone Electronics Vintage Tweed overdrive pedal, off the second hand market.
What Is It?
It's a tweed-tone overdrive pedal. It's said to offer sounds inspired by three of Fender's classic amps:
The Twin
The Bassman
and the 5e3 Deluxe
Unfortunately, Brantone Electronics themselves seem to have come and gone in a blink of an eye. Their website no longer exists, and I can only find archives of it between 2018 and late 2020. They pivoted to become Sharp Magnetics in October 2020, but that firm's website no longer exists either.
Why Did I Buy It?
Because I picked this out of a blind-test towards the start of January. And then forgot about it.
My friend Alessandro sent me 11 demos, showing off the new features in the Two Notes CAB M+'s firmware. He used a mix of different pedals and different settings, straight into the CAB M+, and then straight into his recording interface.
I picked out his 4th demo as my favourite, without even knowing he'd used anything remotely tweedy to make the demos. I definitely didn't say that it sounded tweedy, just that I preferred it over the other tones he'd captured.
I'll admit, I was pretty chuffed when he told me he'd used a tweedy pedal for that sound.
When this pedal came up on eBay, I'd forgotten that Alessandro had used one for that demo track. I'd just missed out on another pedal I'd been hoping to buy, and decided to get this one instead because it had a Buy It Now option.
Boy, am I glad I did.
What Does It Sound Like?
I'm still exploring what this pedal can do. I've basically strapped on a Les Paul, and then flipped the toggle switches and adjusted the dials until I was happy. In my case, very happy indeed.
It's got everything I'm looking for: that low-mid fatness, pushy mids, plenty of top-end too. There's the softness of the attack – a slight roundness to the front of every note, if you like – when I'm in the middle position, and plenty of bite if I switch over to the bridge pickup alone.
For me, this is right up there as one of the best tweed-tone pedals I've played to date.
In terms of feel and overdrive complexity, the NABLA Custom Black Tweed still beats it out. The Vintage Tweed still feels like a pedal, whereas the Black Tweed feels like an actual amp. If I could somehow Borg these two pedals together – the tone of the Vintage Tweed, and the amp-like feel of the Black Tweed – I think I'd have the perfect tweed-tone pedal.
Does It Klon?
Oh yes, and it sounds glorious boosted by a Klon.
Can't say too much more, because I'm having too much fun playing the damn thing to write about it 🙂
Final Thoughts
I know that I still owe you all very belated First Impressions posts on the Mad Professor Sweet Honey Custom and Sweet Honey Deluxe Overdrive pedals. They've become my two favourite drive pedals, and are one of the reasons why I haven't been buying much else recently.
The Brantone Electronics Vintage Tweed happily – happily – hangs with both of those pedals, in my opinion. I'm having a blast playing through it, and it has a real shot of either knocking those off the board.
Even if it doesn't, it's probably going to become one of my go-to drive pedals for the long term.