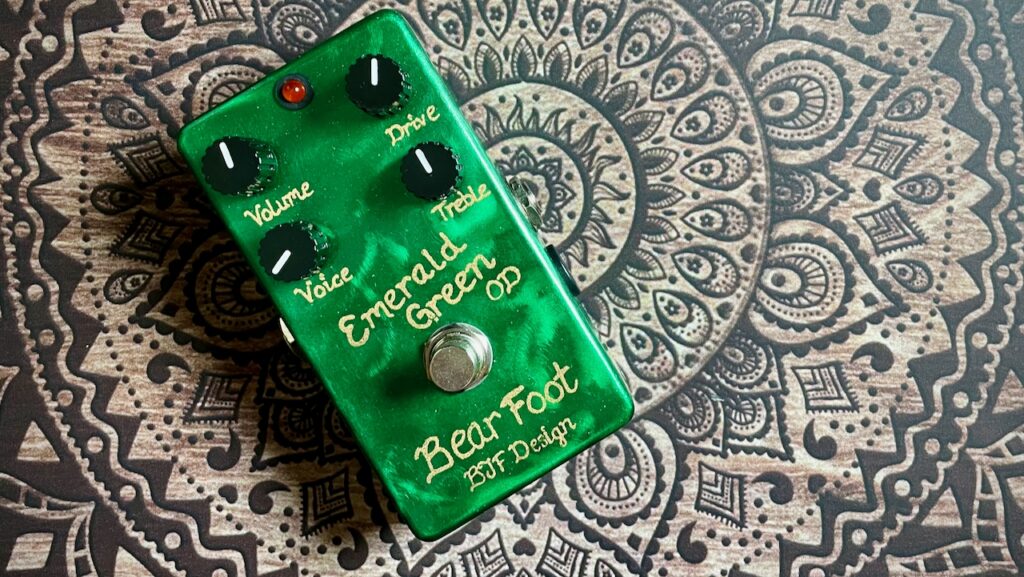 I recently picked up another Bearfoot FX pedal: the Emerald Green OD. Read on for my first impressions.
What Did You Buy?
I bought a second-hand Emerald Green Overdrive pedal (the EGOD for short). It was made by Bearfoot FX, and designed by Björn Juhl – hands-down my favourite pedal designer.
These collabs between BJFe and Bearfoot FX are no longer in production. That's a shame, because it's getting harder and harder to get the pedals that he's designed.
Don't You Already Have One?
Not quite. Last year, I picked up its more aggressive sibling, the Emerald Green Distortion Machine. At the time, I said that I'd be interesting in trying the Emerald Green Overdrive. And now I can 🙂
What Rig Are You Using?
Today, I'm using:
vintage-voiced Les Paul,
into the EGOD pedal
into a delay and reverb pedal
out to my Marshall DSL 20HR (running on the clean channel)
out to a pair of 1×12 speaker cabs, fitted with Celestion Blue and Celestion A-Type speakers
All the pedals are in separate loops on a Gigrig G2, so that I can switch them completely out of the signal chain whenever they're not being used.
When I originally tried the Emerald Green Distortion, I was using my Blackstar Studio 10 6L6 amplifier. Keep that in mind if you refer back to that older article.
Easy To Dial In
I set my volume, found the amount of drive that I wanted, tweaked the Voice and Treble controls to suit, and then just knocked the low-mids down on the amp a little (by turning the clean channel's gain down).
One of the easiest pedals to dial in and enjoy that I've recently tried.
A Lovely Rhythm Overdrive
Like the Emerald Green Distortion Machine (EGDM for short), the EGOD has its energy in the upper mids. It's not a cold pedal – there's plenty of low mids to be had – but those low mids quickly become too much. I felt that the pedal sounded at its best when I dialled the low mids back.
Just noodling in the room, I felt it produced a really nice rhythm tone for my Les Paul. Bright enough that I could easily play in my preferred middle position, without being cutting or too aggressive.
What's It Like With Other Guitars?
For me, it was a bit of a mixed bag.
On the plus side, it seems to love just about anything with a decent bridge humbucker. Unlike the EGDM, I think it works well with guitars that aren't especially mid-heavy.
With Telecasters … it wouldn't be my first choice. I thought it made my Telecaster sound a bit thin on the bridge pickup, which surprised me. It was also a bit shrill with the tone control fully open. That might be a showstopper if you're someone who doesn't like to use your tone control.
With Stratocasters … it did sound odd. On the bridge pickup, I thought it sounded usable, but on the neck pickup, I found it a little unbalanced. I probably could have found a sound that I could use, if I'd put a lot more time into dialling in the amp for that particular signal path.
Does It Klon?
Yes it does.
I ran a JRAD Archer Ikon in front of the EGOD, with the Archer set as a dirty boost – so definitely not in the classic clean boost that I tend to use in these First Impressions posts.
There was a noticeable thickening of the mids, and a corresponding loss of bass and low mids. After a quick tweak of the amp to compensate, I got a rhythm sound that definitely put a smile on my face.
How Does It Compare To The Emerald Green Distortion Machine?
I think that deserves its own side-by-side post to do it justice. I haven't tried it today.
Final Thoughts
Mmm. So far, I really like what I'm hearing. If it records as well as it sounds in the room, then this is a pedal that I should use a lot. It really does sound that good.
Problem is, it's competing with my love of tweed tone, and the plexi & JCM 800 sounds that I grew up with. Is there really space for it in my palette? Right now, I don't know.