Here's a pedal from (probably) my all-time favourite designer, made by one of the classic American boutique pedal makers, that chases one of the three most famous archetype amp sounds of all time.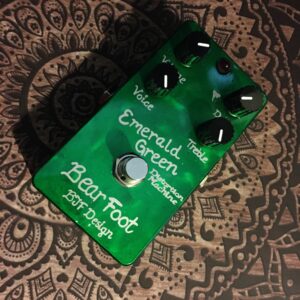 Read on for my first impressions.
What Did You Buy?
I bought a second hand Bearfoot FX Emerald Green Distortion Machine (EGDM for short) guitar effects pedal.
There's three variants of this pedal (that I know of). I believe that this is the original "high gain" version; the one that chases the classic Vox AC30 sound.
Why Did You Buy It?
Let's not pretend otherwise: I'm a sucker for pedals designed by BJFe.
Björn Juhl is the designer of many of my all-time favourite pedals. It's not just how good they sound, although that's certainly a major selling point. Most (not all! looking at you, Uber Bee) of his pedals stack really well, and feature both fantastic pick dynamics and consistently low noise floors.
Does It Do That AC30 Sound?
I've no idea. I don't own an AC30, and it's not really a sound that I've used very much over the years.
I don't think I've currently got any other pedals that aim to do the same thing, either. While there's a few pedals out there that chase the classic Vox sound, they seem to be even rarer than tweed-tone pedals.
What's It Like With Different Guitars?
It seems to suit guitars with stronger mid-range voices the best, at least so far anyway. To my ears, that's where the energy of this pedal's distortion is.
It's not like a Bluesbreaker or Marshall-in-a-Box pedal, where if you roll off the treble on the guitar, you quickly cut down on the amount of gain the pedal produces. Roll off the treble on the EGDM, and it doesn't clean up, it just gets real honky.
With the Strat, it sounded … off. There was something odd about the tone. My Strat is pretty mid-scooped. I probably just need more time with it to get it dialled in right. That's not a problem I had with anything else I've tried this evening.
Does It Klon?
It sure does.
To test this, I put it after my Klon KTR. My KTR perma-lives in the classic 'clean boost' configuration (output around unity, treble around 1 o'clock, and just enough gain for a bit of warmth).
The Klon's mid-boost at round 1 khz adds a nice touch of extra clarity to the EGDM, especially with the Esquire. I did turn the treble down a bit on the EGDM to stop it getting to sharp in the top-end.
I need more time with the pedal to decide whether I prefer it with the Klon always on or not. And I haven't tried it yet with the Archer Clean either.
Final Thoughts
The pedal itself is everything I expect from a BJFe design. It's the sound that I'm not sure of, just because it's not my normal thing.
I want to say that, like the Manticore v2, this is going to be a specialist pedal for me. A pedal that I reach for only when I'm working on lead guitar parts, for example. That's my first instinct. I'm not sure that's going to be what happens, though.
I think it's got the potential to become one of my core tone pedals, like the Pantheon and my beloved SHOD. I'm going to leave it on the board for the next week or two, and spend a lot more time with it, and then (if I remember) I'll report back.
And I'm going to keep an eye out for the other two variants. I'm really curious about the OD version of this pedal. Slightly softer clipping might just be what I need. Maybe.