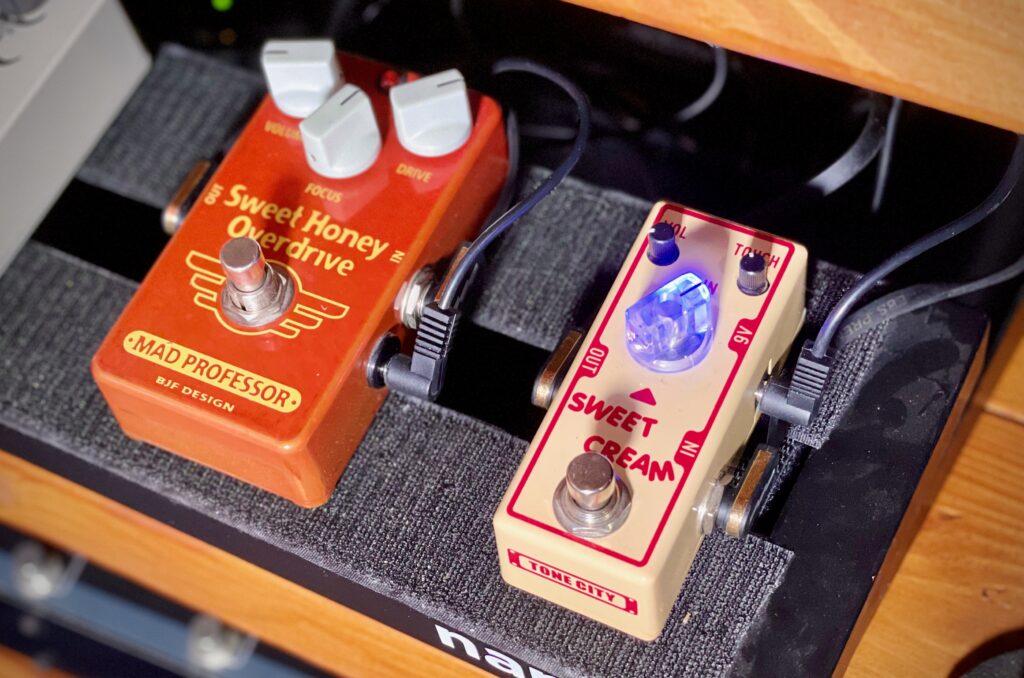 Back in May 2021 (where did the time go?!?), I picked up a second-hand Tone City Sweet Cream Overdrive pedal. I've finally put it onto my pedal board, to see what it can do.
Is it a outright clone of the Sweet Honey Overdrive, or does it have something different to offer? Read on for my First Impressions.
What Did You Buy?
I bought a second-hand Sweet Cream Overdrive pedal (SCOD for short), made by Tone City.
I can't tell you much about what it's officially supposed to be, as Tone City's website doesn't say.
Why Did You Buy It?
I wanted to find out if the Sweet Cream Overdrive is an outright clone of the Mad Professor Sweet Honey Overdrive (SHOD for short) or not.
Regular readers will know that the SHOD is my #1 drive pedal. It's not just my favourite tweed-tone pedal, it's my favourite drive pedal period. I can't recommend it highly enough, if you're looking for a classic blues-rock sound.
Unfortunately, at the time of writing, it's starting to get quite difficult to get the SHOD here in Britain. As far as I can tell, it's still in production (it's in stock both direct from Mad Professor in Finland and at Thomann), but UK shops only seem to have NOS (new old stock) 😱
And – even when it was in stock – not everyone could afford it.
What Is Your Signal Chain?
Today, I'm using:
Deadnote (my PRS McCarty 594) and Spot (my Fender American Deluxe Telecaster with Custom Shop Twisted Tele pickups)
into the Tone City Sweet Cream Overdrive
into a pair of Neunaber Slate pedals (for digital tape delay and spring reverb)
into my Marshall DSL20HR
out to a pair of Victory 1×12 cabs, fitted with 16 ohm Celestion Blue and A-Type speakers
I've also got the GOAT (the Mad Professor Sweet Honey Overdrive), the SHOD Custom, SHOD Deluxe, and a Bearfoot FX Honey Bee Overdrive (HBOD for short) too, for comparison purposes.
All the pedals are in separate loops in my Gigrig G2, so that I can completely take them out of the signal chain when they're not being used.
I Can't Make It Sound Like The Sweet Honey Overdrive
Let's get this topic out of the way first.
I don't believe that this pedal is a straight-up clone of the Sweet Honey Overdrive pedal. It's not a clone of the Honey Bee Overdrive either. I've compared it against three versions of the SHOD, plus my HBOD, and there are clearly audible differences through my rig.
The Sweet Cream Overdrive:
has less low-mids, without being a cold-sounding pedal,
has more upper-mids, giving it a very mid-forward, vintage, small-amp sound,
has more attack in each note, so the notes aren't as rounded
For lack of a better description, there's a luxuriousness to the overdrive of the SHOD that just isn't replicated by the Sweet Cream Overdrive. Even at the lower gain setting that I play at, the SHOD sounds smooth and full.
That's not to say that the Sweet Cream Overdrive sounds bad. This isn't a bad pedal at all – quite the opposite. The family resemblance is there. It's got that familiarity.
The more I play it, though, the more I can't help but think of this pedal in a different way.
Is This A Champ-In-A-Box?
Humour me for a moment …
If I classify the SHOD as a full-fat 12″ tweed amp for a moment, then the Sweet Cream Overdrive is more towards a 10″ or 8″ tweed amp sound. And it's a sound that has really grown on me while writing up this blog post, especially with the Telecaster.
Now, okay, the SHOD definitely isn't a Tweed Deluxe-in-a-box pedal, and the Sweet Cream Overdrive definitely isn't a Tweed Champ-in-a-box pedal either. The SHOD / HBOD family is based on a 50's Supro amp that Bjorn Juhl had in for repair. And (as far as I can tell) Tone City have never official said what the Sweet Cream Overdrive is.
But I find this analogy helpful as a way of deciding where the Sweet Cream Overdrive fits into the overall tweed-tone landscape.
If I want a fatter tone with smoother overdrive, I'll always reach for my beloved SHOD first. However, if I need a bit more bite, a bit more cut, a more forward sound, then I'll definitely try out the Sweet Cream Overdrive for that job …
… along with my Telecaster.
It Sounds Great With My Telecaster
To my ears, the Sweet Cream Overdrive offers up the sweetest tones with single coil pickups.
It's usable with humbuckers, but they seem to push it a little too hard, and it can sound a little too transistor-y for my tastes. Dialling back the volume on (say) a Les Paul helps a lot.
But grab your Telecaster, and the Sweet Cream Overdrive sounds very nice indeed. The mid-forward voicing of the pedal works really well with my Telecaster's bridge pickup. It's amp-like, great clarity, and brings out that Tele twang in a lovely way.
I can see me pairing up the Sweet Cream Overdrive with my Telecaster quite a bit. The more I play this setup, the more it's growing on me. It's reminding me of something, and it's not the SHOD …
One Last Surprise
The sound of the Sweet Cream Overdrive is familiar to the point where I've been going through the pedal shelf, trying to find what it reminds me of. Against my tweed-tone pedals, I drew a blank. The deeper I went into my collection, the more differences I heard.
That was a surprise, but it's not the surprise I'm alluding to here. I did eventually work out which pedal the Sweet Cream Overdrive + Telecaster reminded me of: the Wampler Pantheon.
I wasn't expecting that at all.
The Pantheon is Wampler's take on the classic Marshall Bluesbreaker circuit. That's a family that includes the Analogman King of Tone, the VS Audio Royal Flush, Keeley's D&M Drive, Mad Professor's Royal Blue Overdrive and many more. I've never come across anyone describing the Sweet Honey Overdrive as a bluesbreaker circuit.
Don't get me wrong: the Sweet Cream Overdrive is not a cheap version of the Pantheon. It's just that, with my Telecaster and the way that I like to dial both pedals in, they both sound surprisingly similar. I'd go as far as saying that the Sweet Cream Overdrive sounds closer to the Pantheon than it does to the SHOD.
There are some clear differences. The Pantheon has a fuller-frequency overdrive, and more low-end. But the note attack is very similar, and the mid-forward characteristic is damn close (with bridge pickups! On a Strat's neck pickup, the Pantheon does sound a little more mid-balanced than the Sweet Cream Overdrive does).
This is amazing. I think the Pantheon is the best pedal that Wampler has put out to date. It's the best bluesbreaker-style pedal that I've ever tried, and I rate it as one of the best pedals of any kind. I'm convinced that, one day, this will be considered a legendary pedal.
That the Sweet Cream Overdrive can get anywhere near it … just, wow.
Final Thoughts
For a cheap and cheerful pedal, it's surprisingly complicated to talk about.
If you're after a cheap clone of either the Sweet Honey Overdrive or Honey Bee Overdrive, the Sweet Cream Overdrive isn't going to give you that experience. The family resemblance is there, for sure, but this pedal isn't a straight-up clone.
I don't want to recommend this pedal to anyone looking for "my first tweed-tone" pedal, especially if you play humbuckers. I'm worried that you'd get the wrong impression of what tweed tone has to offer, and you'd end up deciding that you're one-and-done on these kind of pedals.
If you already have the SHOD and/or HBOD and want another flavour, then it's definitely worth adding a Sweet Cream Overdrive to your collection. The differences give me another option – and I love having options to explore.
And – much to my surprise – if you already have the Wampler Pantheon and want another flavour for cleaner tones, then it's also worth picking up a Sweet Cream Overdrive.
If you play Telecasters in particular, I think that this is a good pedal. That's the guitar that I'm going to be using the Sweet Cream Overdrive with. It's too early to say whether this'll become my go-to tweed tone pedal for my Telecaster, but it's definitely in the running for that role. That's how much I like it.